Kiwi Issac Luke admits trying to break leg of England's Rangi Chase
Last updated on .From the section Rugby League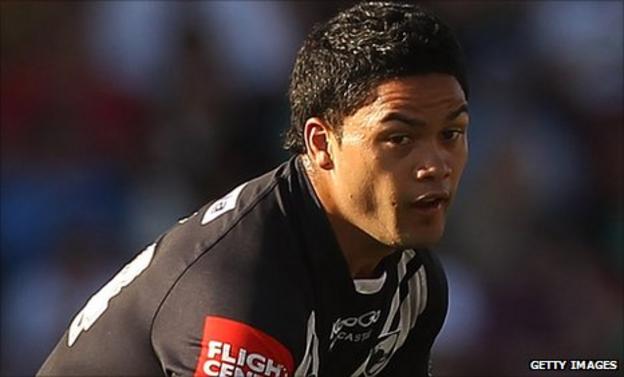 New Zealand's Issac Luke has admitted deliberately trying to break the leg of England half-back Rangi Chase during the Four Nations.
Luke was given a two-match ban for twisting the leg of Chase - who is his cousin - during the Kiwis' 28-6 defeat by England in Hull last Saturday.
The South Sydney hooker said he was angered by New Zealand-born Chase's decision to play for England.
"I just saw red," Luke, who apologised, told the Sydney Morning Herald.
"A lot of the legends that played in the black and white jersey, they wanted blood. I know Rubes (assistant coach Ruben Wiki) wanted blood.
"I guess that's the mentality us young ones have taken on board. We had a talk the night before about what the jersey meant and that must have come out.
"When you come up against your family you want to outplay them. I didn't outplay him. I tried to break his leg. It was the wrong thing to do.
"Now I see that - at the time I didn't. After the game I said 'sorry'. He said 'it stays on the field'."
Luke, 24, faced criticism for his aggressive style of play during the Four Nations and he has vowed to change his game.
''I've got to try and control my aggression rather than try to break everyone," he added.
"I'm regretting it but I can't take it back. I need to wipe all that stuff out of my game."