Dave Rotheram backs Cumbria Rugby League World Cup award
Last updated on .From the section Rugby League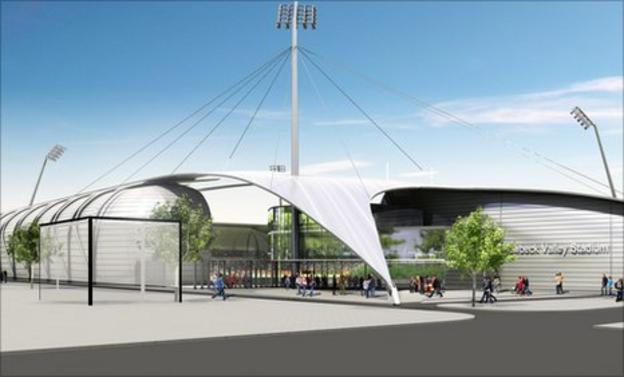 Former Whitehaven head coach Dave Rotheram says public support will justify bringing the 2013 Rugby League World Cup to Cumbria.
"It's fantastic for the area," Rotheram told BBC Radio Cumbria.
"In the last 18 months we've seen how the Cumbria team has galvanised the area and the crowds that turn up."
Rotheram added: "If you put a good product out there, it's well documented that people around here will come to watch."
Despite its status as a rugby league 'heartland', and rich histories of professional clubs such as Barrow, Workington Town and Whitehaven, the region is currently without Super League club representation.
However the county's prolific amateur ranks continue to provide top-flight clubs with playing talent, with Warrington back-rower Ben Harrison and Wakefield duo of Oliver Wilkes and Whitehaven-born Kyle Amor among them.
"It's outstanding for the town and the community," Amor said.
"It's a rugby-mad place and hopefully we'll get a good fixture."
Winning host status was key to the delivery of the new stadium, while Whitehaven could potentially switch their home fixtures to the venue.
"We are extremely excited that the Rugby League World Cup is coming to Whitehaven and the new Pow Beck Community Stadium," Whitehaven rugby league chief executive Barry Richardson added.
"A great deal of work has gone into the bid, particularly ensuring strong Rugby League development for Copeland.
"Securing host status is the first part of a programme that we hope will strengthen the amateur game, improve young players, recruit more volunteers, create more match officials and energise a buzz for the sport in Copeland.
"This can only benefit the game of rugby league."
Meanwhile Amor, 24, who left Haven for Leeds Rhinos in 2009, was captain of the Cumbria side that hosted England Knights at the Recreation Ground in October.
The game was well received at the old ground, although by the time the World Cup comes around the new stadium will be open for business.
"We've proved we can host an international side and hopefully everyone will buy into it," Amor said.
"It's nice to see, it's been a long time coming. There's been a lot of talk over the last eight or nine years of getting the new stadium.
"It's good to see that getting put in place, and hopefully things for the town in rugby league are looking up.
"It's a special tournament with international players taking place."