Paul Anderson to replace Brown at Huddersfield Giants
Last updated on .From the section Rugby League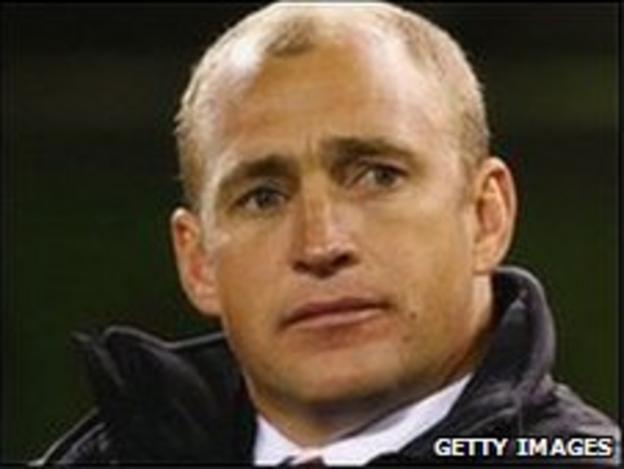 Huddersfield Giants head coach Nathan Brown will step down at the end of the 2012 season to be replaced by his assistant Paul Anderson.
Brown has been in charge for the last three years but will return to Australia when his contract expires.
Former Great Britain prop Anderson, 40, has been handed a three-year deal continuing until 2015.
Brown said: "It was in the best interests of everyone that this decision was made early."
He added: "It was a difficult decision to make as the players, the club and the whole local community have been very accepting and supportive of myself and my family.
"We remain 100% committed to the Giants in 2012. We can now fully focus on the job ahead. We have an exciting squad for Super League XVII who are looking to continue to improve and grow together as a group.
"The past four years have in my opinion seen Paul grow as a coach and he is as ready as he is going to be for the top job.
"He has served a great apprenticeship here along with playing at the highest level at winning clubs and so he knows what is required to be successful."
Former Halifax, Bradford and St Helens player Anderson, who was in joint caretaker charge before Brown's appointment, said: "I am naturally excited by my appointment. However my focus at the moment is solely on the immediate task in hand which is assisting Nathan and the other staff in getting us ready to play in next year's Super League.
"The people that I've been fortunate to work with at the Giants, firstly Jon Sharp and Kieron Purtill, have had an influence on my path as a coach, and secondly the impact Nathan Brown has had on me as a coach and a person will be long lasting."
Managing director Richard Thewlis said: "We have always viewed Paul as having more than just the traditional assistant role and his responsibilities and input into many areas of the club has grown year on year."