Drugs ban for ex-Hull FC player Martin Gleeson
Last updated on .From the section Rugby League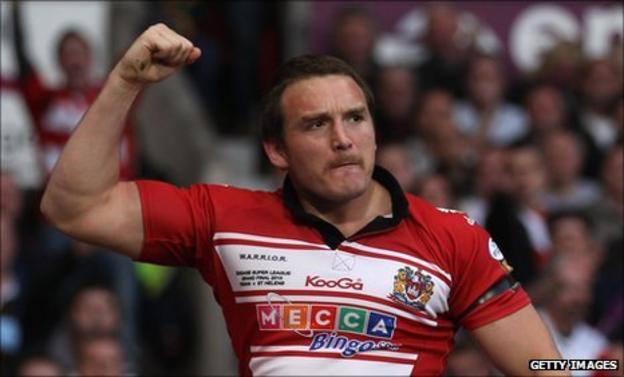 Former Hull FC centre Martin Gleeson, chief executive James Rule and coach Ben Cooper have all been banned for anti-doping rule breaches.
Former Great Britain international Gleeson failed a drugs test in May and Rule and Cooper were "complicit in the lies" that followed the test.
Gleeson, 31, who left the club in September, has been banned for three years, with half of that suspended.
Rule is banned for two years and Cooper for two years, with one suspended.
Gleeson played his last game for the club against Harlequins on 12 June, nearly one month after testing positive for the banned stimulant methylhexaneamine following a game at Salford - in which he scored two tries - on 13 May.
He was subsequently absent from the team and his omission, it was claimed, was due to a stress-related illness.
Gleeson had his contract terminated in September.
The judgment from UK Anti-Doping reveals that Gleeson ingested the stimulant inadvertently while taking a dietary supplement he mistakenly believed to have been approved.
He initially claimed to have bought the supplement himself and had received clearance to take it from Cooper.
He later admitted, however, that he had obtained it from his former team-mate Sean Long "and did not speak to Mr Cooper himself but instead relied on Mr Long's (truthful) statement that he had sought and obtained Mr Cooper's clearance to use the supplement".
Cooper and Rule were also found to have made false statements on the matter.
A statement from UK Anti-Doping read: "James Rule and Ben Cooper were charged with conspiring with Martin Gleeson to cover up the circumstances which led to Mr Gleeson testing positive for a banned stimulant.
"Mr Gleeson was charged by UK Anti-Doping in June 2011 with committing an anti-doping rule violation after he tested positive for the banned stimulant methylhexaneamine on 13 May 2011.
"He was banned for two years by the National Anti-Doping Panel (following a hearing on 9 June 2011), and later admitted lying to the National Anti-Doping Panel about the circumstances that led to him testing positive.
"Mr Cooper and Mr Rule were charged with being complicit in these lies, in violation of Rule 2.5 of the RFL's Anti-Doping Rules.
"Mr Gleeson agreed to a three-year ban being imposed by the National Anti-Doping Panel, with half that ban suspended in recognition of his providing assistance to UK Anti-Doping."
UK Anti-Doping chief executive Andy Parkinson said: "This case marks two firsts for the anti-doping community. It is the first time that tampering with the doping control process in this manner has resulted in a violation, and the first time that members of an athlete's entourage have been convicted of anti-doping rule violations in the UK."
RFL chief executive Nigel Wood added: "Such behaviour is unacceptable and this case has brought the sport of rugby league into disrepute. We must applaud UK Anti-Doping for the hours of work they have put in to conduct a detailed and extensive investigation."
Gleeson's ban expires on 12 November 2012, while conditioning coach Cooper can return on 8 June 2012 and Rule's ban lasts for another year.