Pressure is on in Championship One for Cumbrian clubs
Last updated on .From the section Rugby League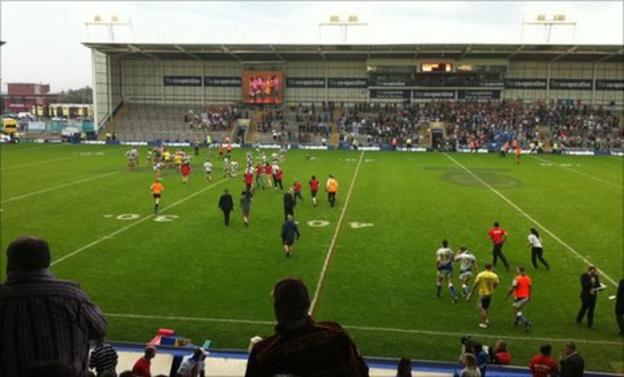 The race is on for Cumbria's three rugby league teams to win promotion from Championship One this season.
Finish within them, and plum encounters with Featherstone, Halifax and Leigh in a newly forged Championship will be the reward.
Fail, and visits to new, unchartered territory such as Northampton beckons - one of four new clubs to be added to the mix.
For heartland clubs such as Barrow, Whitehaven and Workington, promotion is all or nothing.
"It's an important season for all of the Cumbrian clubs," Workington chairman Dave Bowden told BBC Radio Cumbria.
"To get out of in this league - which in my opinion comes a development league - is crucial.
"We've got to get out of this league - and I'm sure Whitehaven and Barrow are saying the same thing."
As beaten finalists in last season's play-offs, Town are expected to again compete, and have strengthened well with the arrival of Wales international half-back Peter Lupton and former Great Britain prop Jamie Thackray.
Just a few miles down the coast, Town's fierce rivals Whitehaven overcame a points deduction to secure a place in the play-offs during 2011, but were eliminated by Doncaster at the first stage.
With David Seeds stepping down, and a new coach installed in Queensland academy specialist Don Gailer, Haven have similar ambitions to their West Cumbrian neighbours.
"It was the major point brought up before I got here, promotion was the number one goal at the club," Gailer said.
"Everyone, not only the players on the field but behind the scenes is working towards it.
"Anything other than a top-four finish would be fairly tragic for the club."
In Barrow's case, the Rugby Football League's punishment for a breach of the salary cap and operational rules led to an untimely relegation to Championship One.
Only three years since the Raiders lifted the Grand Final shield, enabling a failed bid for a Super League franchise, the club were in the bottom tier, faced with a rebuilding job.
Darren Holt, a play-off finalist with Workington last term, returned to the club as player-coach this winter to assemble a squad.
Wales international Andy Bracek, Jack Pedley and the returning Andy Ballard are among the names charged with leading the club to promotion.
"Every team in Championship One this year; Rochdale, Oldham, Doncaster, those teams don't want to get lumbered in this division," Holt said.
"Recruitment from all three teams [in Cumbria] has gone well so far, big squad sizes, and we're all trying to prepare for what will be an important season."
Three clubs into four places does go, but with Rochdale, Doncaster and Oldham also making claims for success, there are no formalities in 2012.
"It's not a death knell, but if you have to spend two years in Championship One, the gap would open up between the rest of the Cumbrian clubs in terms of recruiting local players," Bowden added.
"I really do fear for anyone who stays in the new league for more than 12 months.