Salford City Reds season preview 2012
By Nathan Middleton
BBC Radio Manchester
Last updated on .From the section Rugby League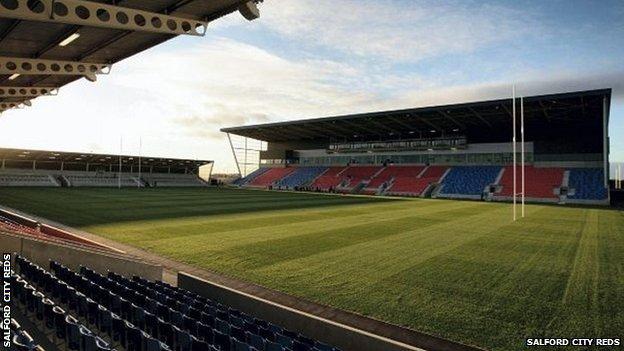 After 110 years of playing at The Willows it's very much a new start for Salford.
The City Reds have moved into their new home in the shadow of Barton Bridge, the 12,000-capacity Salford City Stadium.
They also have a new man in charge following the promotion of Phil Veivers from his position of assistant.
The former St Helens full-back takes over from Matt Parish, last season's midsummer appointment, who stunned Salford when he left in November for personal reasons.
Parish stated when he took over as successor to Shaun McRae that the club needed to go through a number of changes to become successful.
But, having enjoyed just six games in charge, he opted to make a rapid return down under to become the assistant coach at Manly Sea Eagles.
Instead, Veivers, who was at the helm in a caretaker capacity prior to Parish's arrival, is now in charge in the dressing room.
And, assisted by former Saints and Great Britain scrum-half Sean Long, he believes it will prove the biggest challenge he has had in the game.
"I don't dwell on pressure," he told BBC Radio Manchester. "I have a job to do at Salford and that's what I intend to do.
"As I've said to the players if we improve on a weekly basis and we improve on what we did last year then we will be a success.
"There's a few new players and new coaching staff but it's going to come down to results.
"I've 30 years in the professional game of rugby league and the challenges that come in that period of time are insurmountable when it comes to what I'm looking at now."
A new man will be leading the club out in their new home, Stephen Wild having taken over the captaincy from Australian Daniel Holdsworth, a move which Veivers believes will allow the Aussie half-back to "concentrate on playing footy, without any outside influences affecting his game".
Holdsworth will remain a key figure within the squad after his 164-point league haul last season and will have to be just as prolific if the Reds are to improve on last year's 11th-placed finish.
After a huge overhaul of players before the start of last season, it has been more a case of tinkering with the squad this time around.
The Reds have brought in just five players to start the new season, with no 'marquee' signing that stands out.
It will be hoped Australian utility back Joel Moon will help to cover the gap left by Stefan Ratchford's departure to Warrington, while second-rower Shannan McPherson will add presence to a pack now missing Ray Cashmere's physicality.
Welsh international forward Jordan James, prop Ben Gledhill and lock Matty Ashurst are also added to a squad aiming to better last year's efforts when they finished seven points shy of the play-offs.
Promising backs Jodie Broughton, who ran in 14 tries, and Danny Williams, who crossed eight times in just six late-season appearances, will look to provide danger out wide.
BBC Radio Manchester will have commentary of Salford throughout the Super League season. 'Rugby League Extra' returns on Thursday, 2 February (1900 GMT) on 95.1FM, DAB and online and will be available again via the iPlayer or as a podcast.