Warrington season preview 2012

By Ray French
Rugby League Commentator, BBC Sport
Last updated on .From the section Rugby League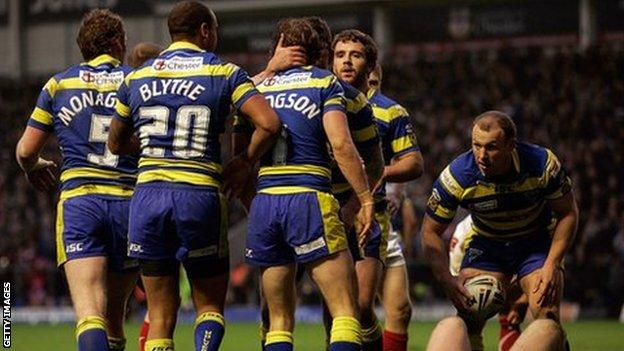 Warrington Wolves flew back home last week from a hectic three-week pre-season trip down under to Sydney.
They played a practice match against the South Sydney Rabbitohs, winning 34-28, and enjoyed warm weather training alongside the Sydney Swans Aussie Rules players, beach lifeguards and NRL players.
A motley selection of training partners, true. But, despite being, for me, the best, pure footballing team in Super League last season, were those training buddies especially chosen by Warrington coach Tony Smith to help his team avoid just missing out on a trophy or two as they did in 2011?
It would seem so if what he insisted would be the benefits of such a trip Down Under before he had even stepped on any aeroplane.
"What we want to do is give these young guys the experience of other sporting cultures and attitudes and give them a look at how the sporting mentality is in different parts of the world," said Smith.
"Attitudes" and "mentality" could be the key components if Warrington are to topple St Helens, Wigan, Leeds and company in the big games.
For the Wolves certainly have a big enough set of forwards, in Gareth Carvell, Adrian Morley, Ben Westwood, Paul Wood, Ben Harrison, new Aussie Test backrower Trent Waterhouse and former Leigh Centurions prop Chris Hill, to frighten any opposition.
And behind, in Brett Hodgson and Lee Briers, although admittedly approaching the veteran stage, they have two of the best practitioners and most prolific of points scorers in the game.
Both are capable of winning any match by a touch of their footballing skills.
But will Smith need to be careful that he doesn't overplay these two matchwinners during a long, hard season?
Yes, and that's probably why he has invested well in bringing Salford's Stefan Ratchford to the Halliwell Jones Stadium.
Capable of playing in most back positions and blessed with sharp handling and running skills as well as a good kicking game, I expect Stefan to be a key player for the Wolves and well worth the cash outlay.
If Richie Myler can display the support play and attacking flair he is capable of and Michael Monaghan displays his sleight of hand and will o' the wisp running in midfield, then the Wolves should again be up there with the most prolific of points scorers.
But what of those "attitudes" and mentality" and how important will they be in determining whether the Wolves deliver the goods when the final whistle blows?
All who suffered the disappointments of last season will no doubt be stronger mentally for the next campaign and will have learned much from seeing a visit to Old Trafford and the chance of a first Championship win since 1955 snatched away by Leeds in a 26-24 play-off semi-final thriller.
Warrington will be the team for all to beat this season and I'm sure they will be among the best of entertainers with their free flowing style of rugby.
But, whether they have the "bottle" to go all the way to the Grand Final, only time and perhaps that trip to Australia will tell.