London Broncos to play Super League match at Gillingham
Last updated on .From the section Rugby League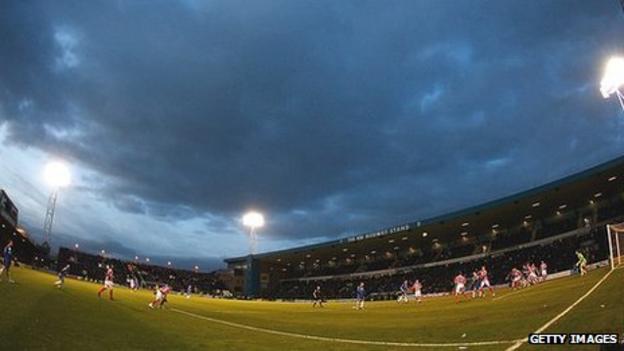 London Broncos will take Super League rugby to Kent for the first time, as part of a quest to find a new home.
They will host Hull FC at the Priestfield Stadium, the home of Gillingham Football Club, on 20 May.
Broncos chief executive Guy Mackay said: "This is an exciting opportunity to take the game to a new audience."
It is a second fixture away from the Broncos' Twickenham home at The Stoop, as they will also host Bradford at Leyton Orient's Brisbane Road on 6 May.
The London club's deal at The Stoop runs out at the end of the year and they are eager to secure a new ground.
Professional rugby league has previously been played in Kent once before back in 1983 when Kent Invicta shared a home ground with Maidstone FC, but the deal only lasted for one year.
Gillingham marketing boss Murray Evans told BBC Radio Kent: "We're hoping the Broncos bring their own fan base, we're expecting a few to come from Hull, but we have to tell our regular supporters there's a game on, they might have withdrawal symptoms already.
"Apparently there are people from this area who watch the Broncos at Twickenham Stoop so the publicity they might be able to generate would give them a wider audience."
As the game falls just days after a potential home play-off semi-final for the Gills, there could be a rush to prepare the Priestfield Stadium.
"The groundsman threw his hands in the air, as he does," Evans continued.
"When the posts go the bits that stay in the ground have to stay there so we have to deal with that."
Evans added precautions would have to be made to prevent the issue of losing rugby balls during the match.
"The Rainham End should be all right," he said. "If it goes that high it will only go into the car park. But [at the Brian Moore Stand end] they will have to put some netting up otherwise the ball will be bouncing down Priestfield Road."