Super League 'more entertaining than NRL' say Australian stars
Last updated on .From the section Rugby League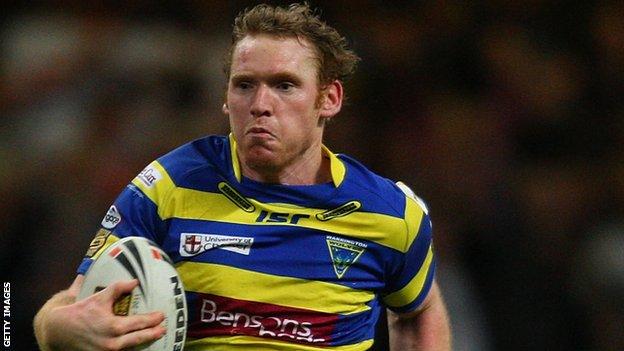 Two leading Australians in Super League have said the English game is more entertaining than their home competition, the NRL.
Ahead of the new season's kick-off this weekend, Warrington's Joel Monaghan and Wigan's Brett Finch told BBC Sport that Super League is best for excitement.
Both men admit to a "bitter taste" after last season, when neither of their teams reached the Grand Final.
"For entertainment, you certainly get your money's worth here," Finch said.
Despite the Australians' continued dominance at international level, Monaghan and Finch are excited to be on English turf again.
Monaghan, 29, commented: "You come from the NRL and it's a forwards-dominated game, I think, at the moment. You get three sets and kick and chase.
"But at Warrington it couldn't be more opposite. They'll have a crack from anywhere and it's the type of style you want to play as a rugby player."
Finch, 30, added: "A lot of Australian players that come over here are the better players. In the past, there's probably been players who have come over here for a free ride, so to speak.
"As Joel said, there's a bit more licence to attack over here, whereas the NRL is a bit more grinding-type football."
Warrington finished top at the end of the regular season in 2011, amassing 44 points to finish a point clear of second-placed Wigan. But, in the play-off semi-finals, they suffered surprise defeats against Leeds and St Helens respectively. Leeds went on to become champions.
Finch said: "Both teams [Warrington and Wigan] were probably the stand-out teams all the way through the competition but failed to win those semi-finals and get in the Grand Final, so I'm sure it left a bitter taste in both clubs' mouths.
"We've lost a few players but we've got a few young guys coming in and hopefully they can step up. It's a bit of a different team with a new coach. There's definitely some pressure on our club so hopefully we can play well."
Monaghan added: "We played 27 rounds and the two of us, as Brett said, were stand-out teams, finishing five or six points clear on top. But in that semi-final it comes down to that 80 minutes and Leeds had us. And St Helens were the same with Wigan. That does leave a bitter taste in your mouth and it's something we want to rectify this year."
Whatever happens, Finch is expecting drama. "The quality of players - the likes of Sam Tomkins, Rangi Chase and Lee Briers - bring an X-factor to the game," he said. "It's highly entertaining and it's something probably that the Australian game lacks a bit."