St Helens' Langtree Park stadium set for Super League debut
By Paul Garrity
BBC Radio Merseyside
Last updated on .From the section Rugby League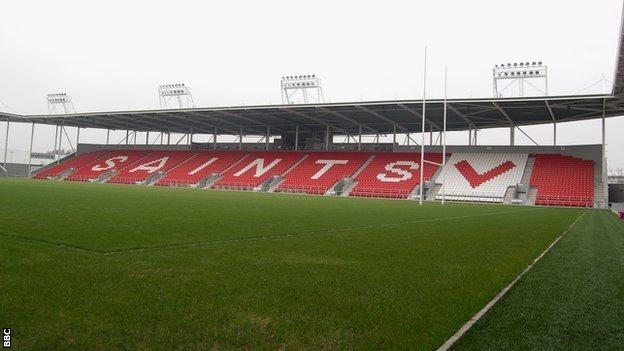 St Helens' new Langtree Park Stadium will host its first Super League match on Friday night on what will be an historic occasion for the Saints when they take on Salford.
The new stadium cost £20m to build and has been more than 12 years in development.
Its construction followed an emotional farewell to their Knowsley Road home in 2010, after 120 years, and last season's exile when Saints played their home Super League and Cup matches at the Stobart Stadium in Widnes.
The new arena has a capacity of 18,000 and forms the centrepiece of the regeneration of the former United Glass site on Peasley Cross Lane.
St Helens chairman Eamonn McManus has overseen the imagination, gestation and completion of the project.
"I was living overseas when I saw the original design plans and the investment requirements of the stadium and it's evolved during that period," he told BBC Radio Merseyside.
"There were a lot of hurdles to over come and some difficult conditions to work in. So we're more than proud now, to put it mildly.
"This isn't a property development, it's the life of the club and in many ways the life of the town.
"There was [a lot a lot of pressure on the club] if this failed, and it's not an exaggeration to say it meant the end of one the great rugby league clubs in the country, which means so much to the town.
"We have a facility in terms of quality that is as good as anything in the country in any sport."
St Helens and England international hooker James Roby is a product of the Saints' youth system, and is expected to start the historic match against Salford.
The 26-year-old hopes the whole town get behind the team and make Langtree Park one of the toughest venues in Super League.
"We want to make this our home, we want to make it our fortress," said Roby. "The more we play here, the more we'll get with the surroundings and the more comfortable the fans will get.
"Hopefully that will rub off in the way we play on the pitch. Now it's here, it's here for many years and this is our new home.
"It's not just the players that buy into that - it's the fans and the town.
"It will just be a great occasion for all. In the tunnel you can hear the noise from the crowd and I'm sure the hair on the back of your neck will stand up.
"It's one of those occasions you can say you've played in the first ever league game at the new stadium."