Salford City Reds confident of paying five-figure tax bill
Last updated on .From the section Rugby League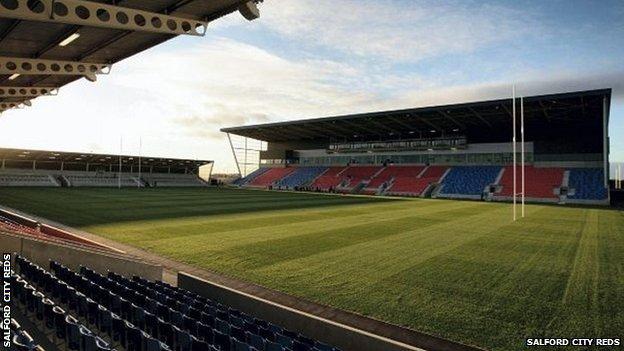 Salford City Reds are insisting that the future of the club is secure after it emerged that they need to pay off an outstanding five-figure tax bill.
"It's being dealt with," he told BBC Radio Manchester. "We've just got to gather the funds and get it out.
"It's a small issue. It's not going to give you any major problems, and it will be dealt with."
Salford moved from their 110-year old home at The Willows in the close season to their new home at Barton Bridge, the 12,000 capacity Salford City Stadium.
More than 5,000 spectators braved the snow to watch the first game at their new home, a 24-10 loss to Castleford Tigers, but Tarry admits that they need to increase their average attendance to about 8,000 for the season to balance the books.
There are ongoing discussions with Premiership rugby union side Sale Sharks about a possible ground share but, with the club not owning the stadium, there will be little direct financial benefit from that.
"The issues surrounding a move to a new stadium and the costs and everything that comes to making something like this happen obviously puts a great deal of strain on the club's financial position," added Tarry.
"A sport club having a small issue with the Inland Revenue is not exactly earth-shattering news.
"In one way or another it's a small issue, it's being dealt with and in a way that's probably the end of that.
"It's a storm in a teacup and I don't anticipate any further issues with it. We just get on with it and deal with it.
"Most sporting clubs have this as an ongoing issue every month whether it's payroll or Inland Revenue. That is sport today.
"We've seen what's gone on elsewhere and I suspect there is going to be a lot more of it, but it won't be at this club."