Workington coach Charlton praise after Cumbrian derby win
Last updated on .From the section Rugby League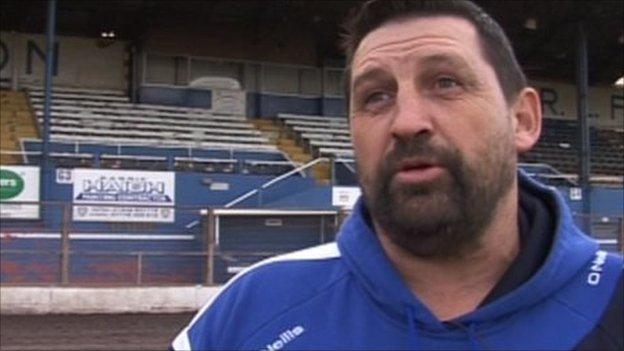 Workington joint-coach Gary Charlton has praised his players' attitude after a 44-16 Northern Rail Cup derby win against Whitehaven.
Town recorded their first win of the new season at the expense of their rivals, with a brace of tries apiece from Brett Carter and Jamie Thackray.
"We asked the boys to go out there and play with a bit of heart and fire," Charlton told BBC Radio Cumbria.
"When we've needed to be tough we've fronted up and done a good job."
Charlton added: "The lads have gone out there and done a really good job on Whitehaven."
Despite the win Charlton's side will miss out on qualification for the knock-out rounds of the competition, as will Haven with both clubs losing two of their three games so far.
"We've come away with a good win but it's all about the league, that's where we've set our platform for," Charlton said.
"We played against Sheffield, tackled well but didn't ask any questions, against Barrow we busted the line but made too many mistakes.
"We won the game in the forwards today."
For Haven coach Don Gailer the result went against all the preparations the club had made for the game.
"You'd like to think we could have competed," Gailer said.
"Yesterday the players were in a good frame of mind, Carl Rudd gave an emotional speech about what these derbies mean, but we looked good for about three minutes, that was about it.
"After the intercept try we lost our shape, and from that point we were out-thought, out-enthused and out-played from one to 17."