Gareth Ellis to make Super League return in 2013
Last updated on .From the section Rugby League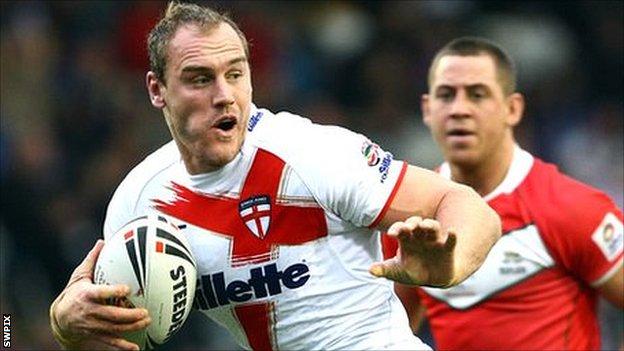 England forward Gareth Ellis intends a return to Super League in 2013.
The ex-Wakefield and Leeds player is to exercise a contract get-out clause from Australian NRL club Wests Tigers.
The announcement will attract attention from a number of Super League clubs, of whom Hull FC have already expressed an immediate interest in the 30-year-old.
"If there's any way possible we're able to make a bid, I can assure you a bid will be made," director of rugby Shaun McRae told BBC Radio Humberside.
"I never get too excited about these things because I believe we'll be one of 14 clubs making an offer."
Huddersfield coach Nathan Brown agrees, adding: "I think Gareth Ellis would interest every coach. Obviously a player of his class would find a spot in any team.
"Every coach in the world has got a high opinion of Gareth Ellis and regardless of the club he would contribute and make the side much, much better.
"There's lots of English players that go to Australia but Gareth did it from day one. It takes some really good players time to adjust, but in Gareth's case, from game one, he was outstanding."
Ellis still has a house in Yorkshire, at Wetherby, purchased during his time with Leeds, and married long-time girlfriend Rachel last December, after completing his commitments with England in the Four Nations series.
And he admitted in an interview last year that he could still remain a Tiger, as he would eventually like to end his career back in Super League at home town club Castleford, who he supported as a boy.
"It's been a major decision for Gareth," said his manager David Howes. "But he feels the time is right to return home.
"He had an understanding with Wests Tigers about 2013 and they have been top class in the matter.
"They said they wouldn't have any problem releasing him for family reasons, as long as he does not go to another NRL club."
Having won the player of the year award in each of his three seasons with Wests Tigers since his 2009 debut, Howes believes that he will have no difficulty obtaining a minimum three-year deal for his client.
"The job of finding a new club starts today," he said. "I am anticipating plenty of interest.
"Gareth is an impeccable character, a role model on and off the field. He is also still very ambitious. He will be aiming to leave the Tigers as another Grand Final winner."
Wests Tigers chief executive Stephen Humphreys told the club's website: "We are disappointed, but we have granted Gareth his wish to return to England at the end of this year.
"Gareth has been an integral member of the Wests Tigers team in recent years. He has taken his game to another level under club and Australian Test coach Tim Sheens, and is held in the highest esteem."