Residency qualification rules must end - Bev Risman
Last updated on .From the section Rugby League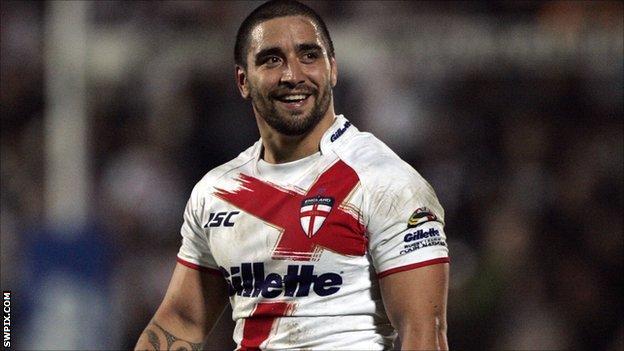 Former Great Britain cap Bev Risman has said he would like to see an end to the residential qualification rule for players within European rugby league.
New Zealand-born Rangi Chase switched allegiance to England last autumn, while ex-Scotland hooker Ian Henderson was named in the most recent squad.
"I can't come to terms with this rule," Risman told BBC Radio Cumbria.
"I think ancestry is important, and that should dictate whether you play for one country or the other."
Castleford stand-off Chase was one of three players brought in under scrutiny to Steve McNamara's England squad for the 2011 Four Nations.
Also included were Brisbane centre Jack Reed, born in Keighley in Yorkshire but raised by his English family in Australia, and Wests Tigers second-row Chris Heighington who qualified on the strength of his English father but had spent all of his professional career in Australia.
"Players at this present time make their decision as to whether they want to take the money and come to England or whatever country it is or sport and play at a higher level," Risman continued.
"They take that chance, and should sacrifice the opportunity to play for their own international team.
"I would try to do away with the opportunity of players getting into international teams on residential grounds.
"I've got dual-qualificiations, my father was Welsh-Latvian, so I could have played for Wales but I was born in England, and I felt being born in England you're English."
None of the players brought into McNamara's squad broke any Rugby Football League rules in doing so, coming under the international rules for squad selection.
However former Leeds and Great Britain player Garry Schofield has been one of several figures within the game to publicly criticise the decision to select players with non-English nationality or separate international recognition.
"If we're producing more players, it might not be a system we need to use," RFL chief operations officer Ralph Rimmer said.
"What Steve will do is vet anybody that thinks they are eligible, might be eligible to make sure they are joining the squad for the right reasons.
"He'll also talk to his senior squad about how they feel about anything that might be controversial or seen as controversial, obviously Rangi Chase was the most notable recently.
"What you want is a coach that wants to win everything, and will kick down every door to do it, and as far as I'm concerned Steve's selections have been pretty good and he's a smart operator.
"Whilst the rules are the rules, let's just play by them and get on with it."
Risman and Rimmer were speaking at the BBC Radio Cumbria rugby league forum, held on Tuesday, 13 March.