Malcolm Alker felt forced from Salford City Reds
Last updated on .From the section Rugby League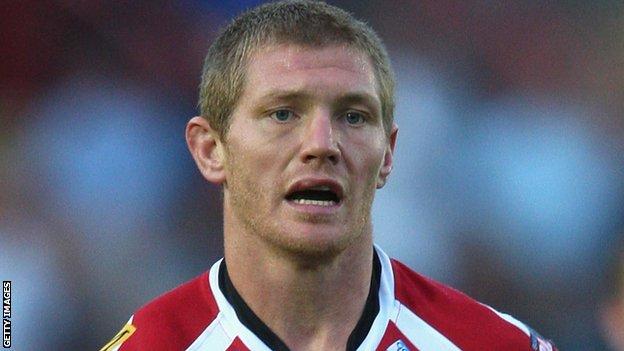 Former Salford City Reds player and assistant Malcolm Alker has revealed how he felt forced out of the club.
"There were a few issues behind the scenes," he told Rugby League Extra. "I had a few disagreements with the hierarchy of the club.
"I felt my side of the story wasn't aired. I felt I was ousted really."
Alker, who started at The Willows in 1995, spent his entire career with the Reds, making over 350 appearances.
At the end of the 2010 season, with Alker aged 31, Salford chose not to offer him a new playing contract, instead handing him a role as assistant coach.
But he was placed on sick leave by the club following the incident and still feels the way it was revealed left him in a bad light.
"I was accused of drinking midweek, while taking a session," Alker explains.
"I'm not a raving alcoholic. At the end of the day I've got a family at home, and I offered to take a breathalyser test on the day of the training session as we had those on site, and I was refused that.
"I'm bitter to the point that I didn't feel my side of the story was heard sufficiently.
"I'm not saying I didn't get support from Salford. It's just my side of the story wasn't heard enough in my opinion."
Responding to Alker's claims, Salford said in a statement to BBC Radio Manchester: "It would not be right to comment on internal disciplinary matters involving individual employees past or present.
"Salford City Reds has moved on from the events of last season and will therefore not be making further comment on this issue."
Alker courted controversy a number of times during his spell at The Willows, being stripped of the captaincy in 2009 following a breach of club rules during a January training camp in America.
He returned as captain two months later, following an investigation into the incident, but admits to wrongdoing whilst in Jacksonville.
"There was an incident with a player, John Wilshere, and to cut a long story short we ended up having a fight during a night out," Alker stated.
"There was a bit of an aftermath back at the hotel after that and I went to see Shaun [McRae] and he accused me of doing things like kicking him in the head, which I didn't particularly do.
"I won't beat about the bush, he got a bit of a slapping, and I put my hands up to that the day after."
Asked if he regretted the incident, Alker said: "No, not one bit. I was put in a position where I felt I was threatened and I couldn't get out of that situation and at the end of the day, it's dog eat dog, isn't it.
"I wouldn't say I'm a bad boy but I can be a little fly-off-the-handle every now and again."