Super League wants to expand World Club Challenge to six teams
Last updated on .From the section Rugby League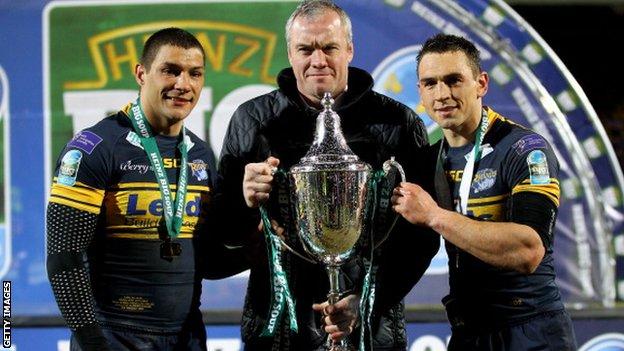 The Super League wants to expand the World Club Challenge to six teams.
Currently, the Super League champions meet their Australian National Rugby League counterparts in a one-off game.
Officials are to discuss a new format with the NRL, which would see the top three clubs from each country compete.
Super League boss Nigel Wood said: "Super League clubs are excited by the prospect of increased opportunities to test themselves against the best sides in the Australian competition."
Plans to extend the World Club Challenge, which was first contested in 1987, were given support by representatives of the 14 Super League clubs, at a two-day conference at Harrogate.
The competition was won by Leeds in February when they beat Manly 26-12 at Headingley to become the first Super League team since 2008 to win the trophy.
Wood added: "The World Club Challenge has grown in prestige and stature over the last 12 years, during which time playing standards across both competitions have improved.
"As we saw last month with Leeds Rhinos' fine victory over NRL Grand Final winners Manly Sea Eagles, there is a genuine hunger to see clubs from Super League and the NRL go head to head.
"There are some obstacles to be overcome but nothing insurmountable.
"All the issues and opportunities such as timings, format and venues will be discussed in our face-to-face meetings with the NRL and NRL clubs over the next few months."