Robin Peers reaps rewards for Gateshead Thunder loyalty
Last updated on .From the section Rugby League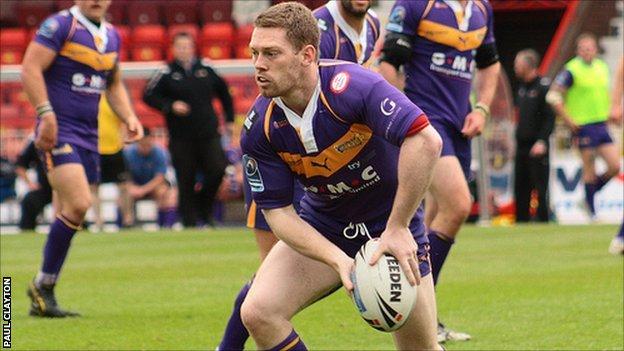 Only a select band of rugby league players make it to a testimonial.
Ten years service at one club in the gruelling world of professional sport, allied to work in the community, mean the Rugby Football League award the honour sparingly.
In the case of Robin Peers, 13 years and 217 appearances a Gateshead Thunder player and a former RFL talent scout in the north east, there are few more deserving candidates.
"It's a massive honour, all I wanted to do was be a professional sportsman, then as I got older a professional rugby league player," Peers told BBC Sport.
"To stay with one club for this amount of time, and then be recognised for that, it's a really proud moment for me."
Born in Wallsend, an area of North Tyneside just a few miles from the centre of Newcastle, Peers got into rugby league through a teacher at secondary school and went on to join Thunder as a scholar after a spell with Wallsend Eagles.
"I started off playing in the academy team at Thunder in 1999, when we had a Super League club here, and that was fantastic," he said.
"We actually won the academy National Division Two title that year and I don't think we lost a game, we had some fantastic people in the ranks.
"That was an exciting time for the club, and I was hoping I might have got a Super League contract in 2000 or 2001 but the merger with Hull put paid for that."
Thunder's short spell in Super League came to an end when they were merged with Hull Sharks, who took top level rugby league back their corner of East Yorkshire.
However Peers remained, signing a professional deal with the National League franchise as a capable three-quarter, but it was not until 2008 that he and the club were able to bring success to the north east.
"My favourite memory in rugby league was winning the National League Two title in 2008, as before the season we were 500-1 underdogs," he added.
"The season before we'd won only three games and finished second bottom, but to come in and win the competition outright was amazing."
That following season in 2009 saw Thunder - and Peers - mix it with established clubs such as Featherstone, Halifax, Widnes and Barrow in the Championship, one division below the hallowed Super League.
In addition they reached the Challenge Cup fifth round, where eventual winners St Helens proved too strong in the Tyneside sunshine.
"We got promoted, and I played about 20 games in the Championship and surviving in that division was some achievement too," he said.
"We signed some great players, Luke Branighan came in who was one of the best half-backs we've had at the club.
"Then halfway through the year we brought four lads over from France.
"Nick Youngquest who is now at Castleford, Russell Aitken who had played in an NRL Grand Final with Melbourne Storm, a guy who everyone rated in Kris Kahler and Paul Franze."
However it has not always been so joyous down at the International Stadium.
Financial problems, the various incarnations of the club and relegation have all impacted, but for Peers it was a personal disappointment in the aftermath of 2009.
"I don't think many people know this but after the 2009 season I was told I was going to be released by the club," he added.
"After being there since 1999, nearly 10 years and coming up to a testimonial, that was a massively hard time.
"I felt I'd played very well at the start of the season, and then half-way through Steve McCormack came in and I don't think myself justice under Steve.
"It was him who was making the decision and the club was moving places, so it was fair enough."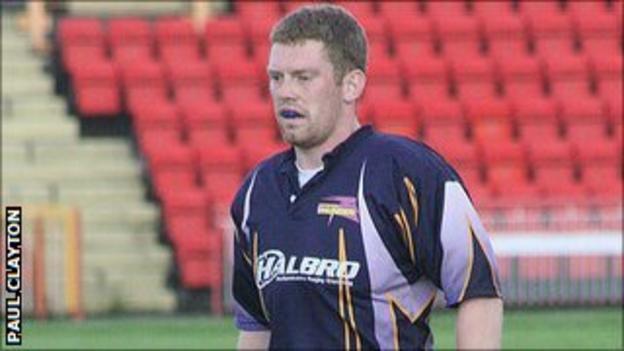 Peers ended up returning to the club before the hooter had sounded on the eve of the 2010 campaign, after the departure of the club's owners forced administration, and a new community-based club model was formed.
Relegation to Championship One, prompting a reprieve for Leigh Centurions, saw McCormack leave for Barrow and impressive imports such as Dylan Nash, Youngquest and Branighan depart for pastures new.
With recruitment needed Peers returned, and until this season has combined playing duties with coaching, as a stalwart of the growing north east community presence.
However all those years of shuttling up and down the flank have taken their toll, and Peers is now ready to hang up the Thunder shirt for a different challenge.
"I will be leaving both Thunder and the North East to pursue my coaching career, and when I leave Thunder I will be announcing my retirement as a player," he said.
"It is with a heavy heart that I am leaving but I hope that I will be able to return in the future to coach in a capacity with Thunder.
"I'm going to be working in the United States, and it's a great opportunity for me to get into coaching, having done a little bit with Kevin [Neighbour] and the young players here in the north east as a talent scout with the RFL."