Leeds Rhinos' Jamie Peacock urges fans to go to Odsal
Last updated on .From the section Rugby League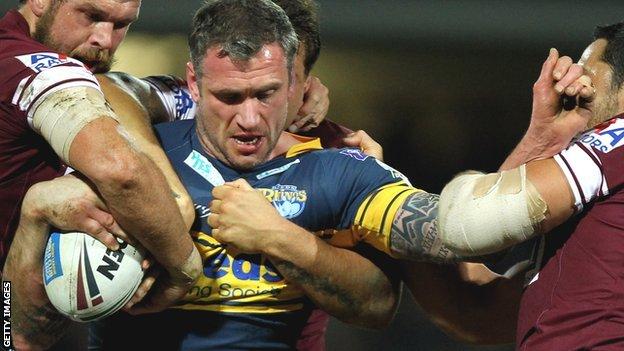 Leeds Rhinos prop forward Jamie Peacock has urged Leeds fans to go to the derby against Bradford Bulls on Friday.
"Rugby league is full of big derbies and I think this is the finest," the England captain told BBC Radio Leeds.
"Leeds fans need to realise that they need to come down. They need a Bradford team in the Super League. The money they'll bring in will help keep the Bulls alive."
He added: "I think it's going to be an electric atmosphere if we can get a big crowd in. You need that here because of the way the ground is."
On Wednesday, Bradford announced they had gone past the £300,000 mark in their bid to have collected £500,000 by the weekend.
The one-time Bulls player has donated his 2003 Grand Final shirt and ring to be sold in a fundraising auction for the club.
Despite his sympathy for his former employer the 34-year-old says that while he is affected by the Bulls' plight he will be as determined as ever to win.
"It probably doesn't matter to the other players as much as it matters to me and Macca (Rhinos boss Brian McDermott) because we played here," he continued.
"It's going to be a funny old week but come game day the only thing that's going to matter to me is getting the win for Leeds.
"I'm a professional sportsman. Come Friday my business is winning for Leeds, I'll worry about Bradford afterwards."