Bradford Bulls reach initial £500,000 goal
Last updated on .From the section Rugby League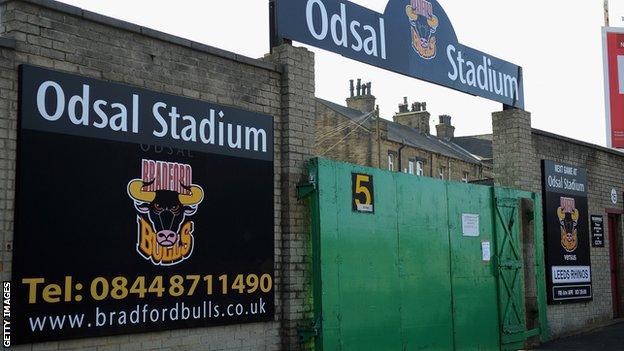 Bradford Bulls have announced they have reached their first target of £500,000 as they look to stay in business.
The Bulls have so far raised £506,000 through a combination of pledges, gate receipts and an auction.
"Fans, supporters, sponsors, local business and the entire rugby league community have come together in a remarkable effort," chief executive Ryan Duckett said.
In the initial announcement, Bradford said an impending tax bill and a changed banking lending arrangement had left them with virtually no cash.
Duckett continued: "The club will now proceed to the next phase of our plan, in connection with which I can confirm a number of confidential discussions are underway.
"We now need everyone to redeem their pledges as soon as possible so that the club can address its short-term issues while those discussions continue.
"The directors, staff, coaching staff and players would like to sincerely thank all of those who have pledged and those who have contributed in a broader sense."
Bradford extended the initial deadline from 1130 BST Saturday to Easter Monday after falling just short.
The club now need to raise a further £494,000 by the end of the month.