Jarrod Sammut praises Bradford Bulls fundraisers
Last updated on .From the section Rugby League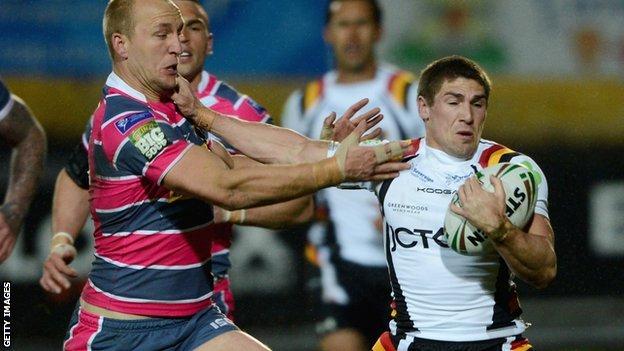 Bradford half-back Jarrod Sammut says the help the club has had in raising £506,000 shows rugby league is "the greatest game of them all".
"Credit and a round of applause goes out to them," he told BBC Radio Leeds.
"It's a big ask. We probably would not be in the position we are now without that support."
He added: "This shows that rugby league is the greatest game of all and it's a really big family sport.
"It shows the passion and love with Bradford Bulls and that we're going to be around for a long time. With the support we've been getting the days are looking brighter."
The money raised represents just over half of the full amount needed to keep the club afloat, but £494,000 is still needed.
Sammut admits the players have harboured doubts about the Bulls' long-term future since the announcement that they were in financial straits.
"At the end of the day you think, 'I hope I still have a job', but there are other things that we needed to focus on," he said.
"The last thing you want to hear about your job is that it's in jeopardy.
"All the lads have been really positive and we've tried to keep that side of things away from what we need to be focused on: playing rugby, making sure we're doing the little things right at training, keeping ourselves physically fit and making sure our minds are switched on."
Having been involved with Crusaders' withdrawal from Super League last year due to financial problems, Australian Sammut believes he can learn from that experience.
"It's like lightening won't strike twice in the same area but unluckily for me it has.
"I think that being in a similar position before I can just let it go over the top of my head and not let it get me down too much."