Widnes head coach Denis Betts seeking consistency
Last updated on .From the section Rugby League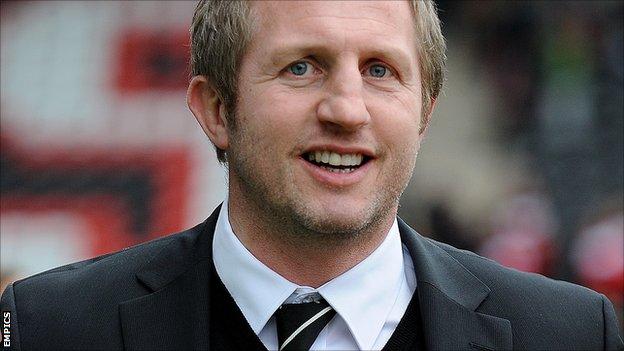 Head coach Denis Betts believes Widnes Vikings must achieve consistency to become a quality Super League side.
Betts told BBC Radio Merseyside: "We keep trying to do it and we demand lots from them in our training sessions.
"We still fall down on game day when the pressure comes on, but we're learning and getting better from it."
Widnes, who have re-signed Joe Mellor on loan from Wigan, lie bottom with two wins from 11 games but impressed in their Challenge Cup loss to St Helens.
"They know they've got the ability, but backing that up is tough," said Betts.
"This is a very tough league. It's tough week in, week out, and it's something that you have to understand how to do.
"You have to fail a few times, then you have to put a couple of good games together, then you fail again, then you put three good games together.
"If you want a career, that's what you've got to learn.
"At the moment we've got a group of individuals that can't do that."
He added: "The games against St Helens, the Wigans and the Warringtons are pretty easy. The enthusiasm is there because it's a big stage against big opposition.
"We have to do that every week against every side."
The Vikings, who returned to Super League at the start of this season after a seven-year absence, face St Helens again in a league fixture at Langtree Park on Friday.
And 21-year-old half-back Mellor's return is a boost for the club, for whom he played 14 games in the Championship last season.
"It's great to have Joe back on board. He's a fantastic kid with a brilliant attitude who needs Super League experience.
"That's obviously restricted at Wigan at the moment, given the amount of quality players that are currently in front of him," said Betts.