Bradford Bulls chairman Peter Hood set to leave
Last updated on .From the section Rugby League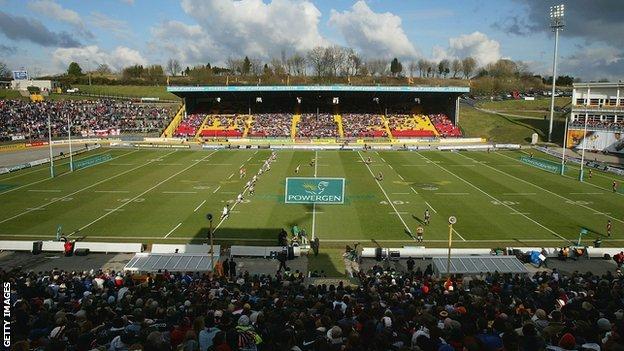 Bradford Bulls chairman Peter Hood is set to leave the financially stricken Super League club.
Last month, Hood launched a campaign to raise £1m to keep the Odsal based side in business.
But he told the club magazine ahead of Sunday's loss to Huddersfield: "I anticipate this being my last contribution to a Bradford programme."
An extraordinary general meeting has been called for next month and Hood is likely to be forced out then if he chooses not to step aside.
He said: "A handful of shareholders in Bradford Bulls Holdings led by former chairman Chris Caisley, who between them hold slightly in excess of 50% of the company's share capital, have given notice that they intend to vote myself and (co-director) Andrew Bennett out of office.
"From my personal perspective, it has been an honour to have served the club for more than 18 years in total since 1989.
"There has been speculation that Mr Caisley and his cohorts may be in a position to introduce new funding into the club.
"If that proves to be the case, it is to be greatly welcomed and applauded for, as we know, the role of moneymen these days is central to sporting success."
The Bulls, who currently lie eighth in the Super League table, reached their initial £500,000 target earlier this month and are now in the process of securing the next £500,000 they need to stay afloat.