Leeds Rhinos express interest in cross-code hybrid game
Last updated on .From the section Rugby League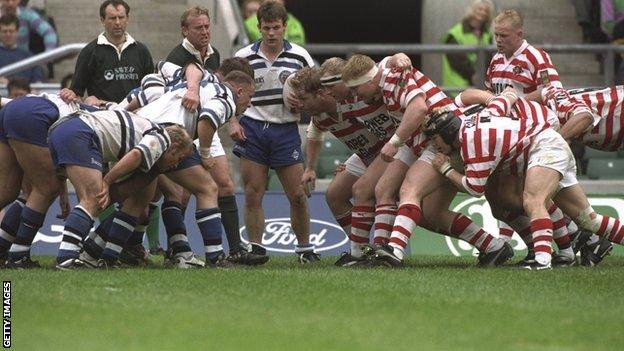 Rugby league world club champions Leeds have confirmed an interest in taking on a rugby union challenger in a game played under hybrid rules.
Rhinos chief executive Gary Hetherington has spoken with former Australian union and Leicester Tigers coach Bob Dwyer about the concept.
He told BBC Radio Leeds: "We've been approached and would be interested in developing the concept.
"We're not the architects of the idea but it would be fascinating for fans."
Under the rules being proposed by Dwyer - who is a keen advocate of experimenting across codes - rugby league is played while a team is in their own half and the rules switched to rugby union as they cross into the opposition's territory.
An experimental game, between schools teams, has already been played in Australia and the country is set to host a contest between an NRL team and the All Blacks later this year.
"The people who are behind the idea, including Dwyer, are keen to launch it and they'd like to do it in England, subject to approval from the game's governing body [the Rugby Football League]," Hetherington continued.
"It's incorrect to say a venue and game have been organised already".
Should the match go ahead, it would follow previous experiments between the two codes in England.
In 1996, Bath took on Wigan in a two-game "clash of the codes" series where one game was played under league rules and the other under union.
Wigan won the series by an aggregate score of 101-50.
Seven years later Sale took on St Helens in a one-off tie where the first half was contested under union and the second under league. This time it was the union side who triumphed, with Sale prevailing 41-39.
Union World Cup winner Jason Robinson has the distinction of playing in both challenges and in different codes.
He played for Wigan in 1996 before helping the Sharks to victory in 2003.