Salford City Reds pay outstanding tax bill
Last updated on .From the section Rugby League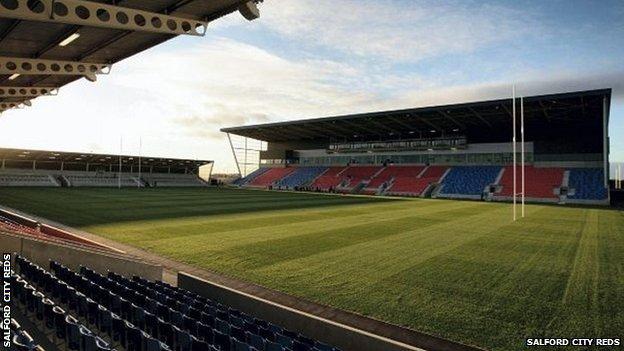 Salford chief executive Dave Tarry has told BBC Radio Manchester that the immediate future of the club is secure after paying an outstanding tax bill.
"I wouldn't say people should be worried about Salford's immediate future, but we haven't got crystal balls," said Tarry.
"We've just got to keep moving on, just like everybody else."
Salford moved into a new 12,000-seater stadium at the beginning of the season and have been attracting crowds of around 5,000 to Super League matches, well below the club's target figure of 8,000.
The City Reds recently announced that they will be sharing their ground with rugby union outfit Sale Sharks from the beginning of the next Premiership season.
"Times are tough in sport, as they are in many other walks of life," added Tarry. "In today's world, if you're not on your toes with the HMRC, they take action very quickly.
"There's not a lot of discussion going on. It's about being able to respond as and when required.
"We've seen it throughout the whole of sport, not just in Super League. In rugby union, there are one or two interesting cases bubbling along at the moment, as there is in football with Rangers.
"Times are tough in business and in sport. Unfortunately today, they authorities don't seem to want to wait. It's one of those things and we carry on like every other club."