Cumbria to miss out on Rugby League World Cup 2013
Last updated on .From the section Rugby League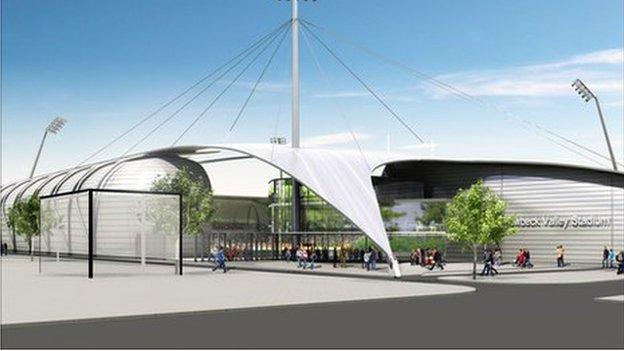 The Rugby League World Cup 2013 committee have announced the fixtures set for Whitehaven's Pow Beck Stadium will no longer be held there.
With Copeland Borough Council unable to guarantee the building of the proposed venue within the required time frame, new venues will now be selected.
"It's disappointing primarily for the people of West Cumbria," said general manager Sally Bolton.
"We will announce the replacement venues shortly."
Brown continued: "When selecting Copeland as a host the selection committee were very supportive of the idea of building a new stadium in Whitehaven as a way of growing the game in West Cumbria.
"As the Copeland bid was predicated on the building of a new stadium our strategy always included a robust contingency plan, which has now been put into place."
West Cumbria's rugby league heritage, with former Challenge Cup winning sides such as Workington Town and Barrow in the patch, was a key factor in the selection of Pow Beck for Scotland v Tonga and Scotland v Italy matches.
Yet prior to construction, problems arose with the renovation of the current Recreation Ground at Whitehaven when the council encountered issues with the Miners' Welfare Organisation that owns part of the site.
The secretary and trustee of Whitehaven Miners Social Welfare Club, Brian Birkett, said he was "disappointed, surprised and shocked" that time, money and work had been lost to the delays.
"Many tens of thousands of pounds has been spent which is going to go down the drain now," he said.
"We feel we've been blamed for things going wrong and the truth is it's not our fault."
However the partners responsible say they are determined to continue the project regardless of the loss of World Cup host venue status.
"Following a meeting last night, we have agreed unanimously that it is no longer affordable, nor feasible, to continue negotiations with the Whitehaven Miners' Welfare organisation and will instead look to develop the stadium project in a new direction," the Pow Beck stadium partners [Copeland Borough Council, Whitehaven Rugby League Club and Whitehaven Amateur Football Club] said in a statement.
"The partners will continue to work together to move the stadium project forward, but will no longer be exploring the option of access over the Whitehaven Miners' land.
"Positive discussions about other options for the development have already taken place, and the partners are pleased to now be moving forward.
"Partners recognise that their new approach will lead to a delay in the project being completed, but believe that it will ultimately help secure the sustainability of the project.
"As a result of this decision, the opportunity to bring the 2013 Rugby League World Cup to Whitehaven is lost, and the RFL has been advised of this.
"The partners are pleased that Britain's Energy Coast continues to support the Stadium development and look forward to working more closely with them, our nuclear partners and the RFL to make the stadium a reality."