Challenge Cup 2012: Featherstone eye 'greatest day' against Wigan
Last updated on .From the section Rugby League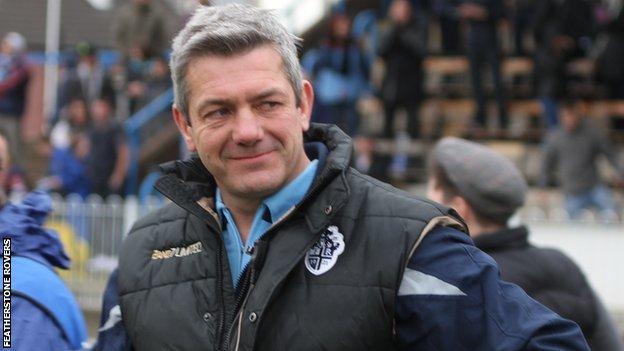 Before Featherstone's shock win over Castleford in the fourth round of the Challenge Cup, coach Daryl Powell joked that the club would need to build a statue of the side if they beat their Super League opponents.
Having knocked out Ian Millward's side with a 23-16 victory, Powell is now faced with pitting his semi-professional players against holders Wigan Warriors.
"If we can beat Wigan they'll have to build a statue of us outside the DW Stadium," he quipped to BBC Radio Leeds.
"We need our players to have the games of their careers and I've told the players that.
"If we won it would be absolutely amazing. If we pull if off it'll be the greatest day of all our players' and coaches' lives."
On paper this tie is an even bigger mismatch than the game against Cas appeared to be.
Rovers have won the sport's most famous knockout competition three times in their history, while Wigan have triumphed on 19 occasions, including eight straight victories from 1988 to 1995.
The Warriors were the first rugby league team to go professional, yet the Featherstone players still make a living outside the game.
While Featherstone's ground has a capacity of just over 6,000, Wigan share the 25,000-seater DW Stadium with Premier League football side Wigan Athletic.
"It's not mission impossible but we know it's going to be extremely tough," said former Great Britain international Powell.
"The balance of power is massively in the full time team's corner. They're training and recovering while we have really short slots to work with players. We had a pretty rushed session in midweek to work on different elements of our game.
"We're trying to keep our guys fresh but it's hard because they have to get up in the morning and go to work."
Powell, who is also assistant manager of the England side, has been in charge at the Big Fellas Stadium since 2008, but is not overawed by the disparity between the clubs.
"It's a great draw. The most important thing was that our name came out of the hat first," he added.
"On the pitch it's as daunting as it gets. They're playing fantastic football and they've got some of the best rugby league players in the country and even the world.
"It'll be a pleasure for us to have players like Sam Tomkins walk on to our pitch.
"There's no doubt that they'll try to blow us away early on. They've got a lot pace and for us it's important that we get into the game. If we can get a foothold then that'll give us a chance.
"I just hope that come the end of the match they feel like they've been in a game."
Perhaps nothing puts the gap between the two clubs' positions into clearer contrast than the injury suffered by Tangi Ropati in the win over Cas.
Ropati broke his jaw in a challenge with Super League man of steel Rangi Chase, for which Chase was banned for three games.
As the terms of the Samoan's visa state, he can only earn money through playing rugby league, and Featherstone have started fundraising for their injured player, who faces 12 weeks out.
Powell admits to being "humbled" by the response to Ropati's situation.
"Rugby league is a sport which treats its players in a certain way," he said. "The fans have a great respect for the players and vice-versa.
"It's humbling to see how people have rallied round because he's a top quality guy and he deserves all the support he's been getting.
"It's pleasing to see the old-fashioned values that surround our games are still there."
Powell will hope those same "old-fashioned" values help his side prove that lightning can strike twice.
Full commentary of Featherstone Rovers v Wigan (Friday, 27 April 20:00 BST) is available on BBC Radio Leeds 92.4FM, 95.3FM, 102.7FM, 103.9FM, DAB Digital Radio & Online at www.bbc.co.uk/radioleeds