Batley Bulldogs boss John Kear relishing bad weather
Last updated on .From the section Rugby League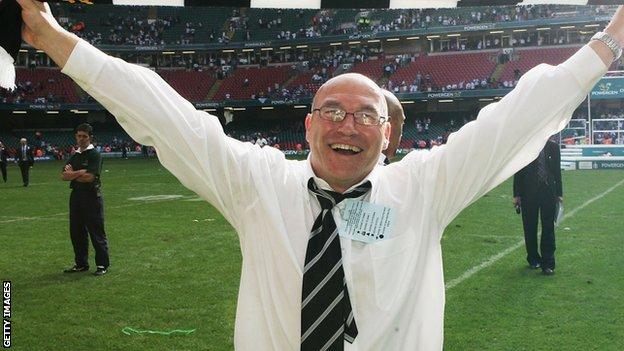 Batley boss John Kear hopes that the recent bad weather will help his side in their Challenge Cup tie against London Broncos.
The Championship side face the Super League strugglers on Sunday at Mount Pleasant.
"I'd be nervous coming here if I were their coach," he told BBC Radio Leeds.
"We're going to train on the pitch regardless of the weather. We're happy for bad conditions, I wouldn't be averse to a couple more days of rain."
He added: "I might ask the local fire brigade if they want to dowse a bit more water on it before the kick-off.
"I want [Broncos captain] Craig Gower to be stood on the top of the steps look down and think 'what the heck is going to hit me?'"
Kear has twice led sides to Cup glory, having inspired Sheffield Eagles to one of the biggest upsets of all time against Wigan at Wembley in 1998, before helping Hull beat Leeds 25-24 at the Millennium Stadium in 2005.
The Bulldogs boss admits the draw could have been kinder to his side, but he is confident that his side are capable of an upset.
"Maybe from a performance perspective I would have liked another Championship side, or from a pay-day angle it would have been good to have been away at Headingley," he continued.
"London are the lowest ranked of the Super League teams left in and we're at home so I think it's a very interesting tie.
"We cope well with being the underdogs and there's a feeling of excitement and anticipation.
"I'm back in my comfort zone against a Super League side. In the Championship there's a lot of unknown quantities but you don't have that against a Super League side."