Hull FC full-back Wade McKinnon to return to Australia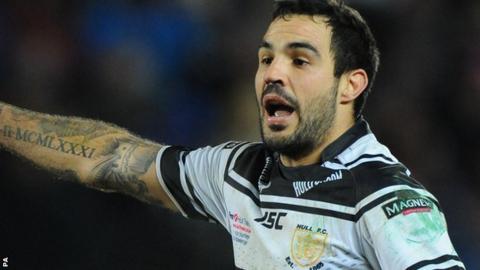 Hull FC full-back Wade McKinnon has left the Super League club.
The 31-year-old signed a three-year deal with the Black and Whites last May but failed to settle in England and is to return to his native Australia.
He told the club website: "I have really enjoyed playing with the team during my time in Hull and have made some really good friends here."
Hull have filled the gap left by his departure by signing teenager Matthew Russell from Wigan on loan.
"This is a good chance for me to impress and I'm really happy to be out gaining some Super League experience," the 18-year-old said.
"I know some of the lads here like Reece Lyne, Eamon O'Carroll and Martin Aspinwall and they all speak very highly about the club, so I'm looking forward to it.
"I've got a lot to prove, but I'm here to do my best and stay as long as I can."
Russell has played for England at youth level and could make his Hull debut in Saturday's game against Leeds.
"He is still quite raw and has a lot to learn, but he has real talent and he now has the chance to come to Hull and show us exactly what he is capable of.
"It will be a great learning curve for him and at the same time will give us another option at the back following the departure of Wade McKinnon," said Hull's director of rugby, Shaun McRae.
McKinnon made 10 league appearances for the KC Stadium side.
"I would like to thank everyone for their support at Hull FC during my time at the club," he added.