Wigan Warriors 'asked to move' St Helens tie in Challenge Cup
Last updated on .From the section Rugby League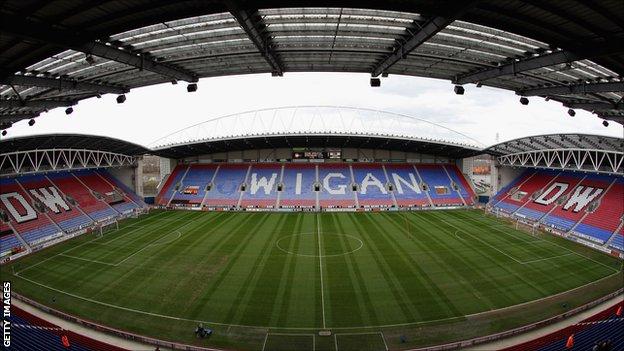 Wigan say they feel "let down" by the Rugby Football League after being asked to play their Challenge Cup tie against St Helens away from the DW Stadium.
Warriors had hoped to alter the date of the televised quarter-final on 12 May as Wigan Athletic play 24 hours later.
The RFL would not reschedule and proposed a switch of venue, but Wigan have confirmed they will play at home.
"We feel Wigan and the integrity of the Cup have been penalised unfairly," said Warriors chairman Ian Lenagan.
"Whilst hoping that the integrity of the competition would prevail, Wigan identified and negotiated at short notice with stadiums in Leigh, Bolton and Warrington, all of whom were extremely helpful, as St Helens have been throughout this last difficult three days.
"We feel let down by the RFL that they are prepared to countenance the loss of integrity of their famous Challenge Cup competition by removing home advantage from the Challenge Cup holders in a critical and closely competitive quarter-final in order to fit in with preferred television schedules when valid and practical alternative days and times were available.
"We also feel that the RFL scheduling of Challenge Cup rounds has been poor, with three rounds in 30 days, followed by nine weeks before the semi-finals.
"More importantly, no account seems to have been taken of the clear conflicts with football-shared stadiums on the weekend of 13 May, with immovable Premier League final matches taking place then, plus League One play-off matches.
"Wigan, Hull and Huddersfield all share stadiums with football clubs and were possible to be in the quarter-finals, albeit Wigan are the only Premier League club.
"It is excellent to demonstrate publicly the togetherness and strength of football and rugby in Wigan.
"I now look forward to great crowds watching both teams together that weekend at the DW Stadium."
The Warriors say they informed the RFL in October last year that they were unable to play at home during that weekend, because of the football club's home fixture against Wolves on 13 May, a match could be crucial in the Latics' fight for Premier League survival.
Dave Whelan, chairman of Wigan Athletic, commented: "It is scandalous to be put in this position but we cannot see Wigan Warriors playing such a game away from home.
"All Wigan folk, whether primarily rugby or football supporters, come together in wishing to see two such important games shown from the Wigan stadium across the country on successive days next weekend."
In a statement, the RFL said it was delighted Wigan had found a solution enabling them to continue their defence of the trophy at home.
It said: "The schedule for the 2012 Carnegie Challenge Cup was circulated last year and all clubs have had ample time to put in place contingencies should a tie in which they are involved be selected for televising.
"It is the draw which decides the make-up of individual rounds, not the RFL, and whilst clubs must trust to fate, they are also aware of their responsibilities with regard to broadcast agreements.
"Whilst the RFL were informed by Wigan Warriors of the potential difficulty they faced as a consequence of their unique tenancy agreement were they to be drawn at home in the quarter-finals, the club were aware that should their tie be selected for broadcast, the onus was on them to find a solution.
"Wigan are to be congratulated on having found a solution which will see their match against St Helens played at the right venue on what will prove to be a compelling weekend of Carnegie Challenge Cup quarter-final action for all eight teams involved."