Salford assistant Sean Long will wait for head coach role
Last updated on .From the section Rugby League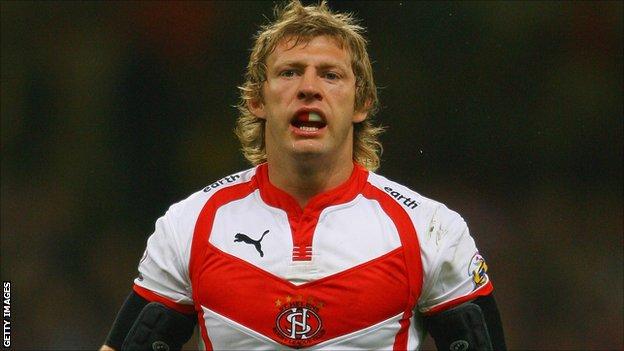 Sean Long has said he is happy to learn his trade as a coach with Salford City Reds and will not rush into taking a role as a head coach.
"You'd be stupid to take one straight away because, once you get to that level, there's only one way you can go," he told BBC Radio Manchester.
"I'm going to earn my stripes and hopefully then I'll become a head coach, but I've been told not to rush."
Long, who retired in 2011, is currently serving as assistant to Phil Veivers.
"I need to work hard and do the hard graft, like Phil's done for the last 10 or 12 years," added Long.
The 35-year-old enjoyed a colourful career playing for Wigan, Widnes, St Helens, Hull FC and Great Britain, during which time he won the Lance Todd Trophy three times and was named Man of Steel in 2000.
But his time as one of the biggest stars in rugby league was not short of controversy.
While at St Helens in 2004, Long was fined and banned for three months for betting on his own team to lose a Super League game at Bradford.
"I didn't know at the time that you couldn't do it," said Long.
"It's a no-no that you should never do it, but there was no rule in the books that you couldn't do it.
"I'm not that bothered about it now because you make your mistakes and you learn from them.
"It was a one-off thing which happened and hopefully my career overrides that. It's one blemish on my career that I do regret, but I've had so many highs and they totally outweigh the things that I've done."
Hear more of Sean Long's interview with Ian Cheeseman on BBC Radio Manchester's "In The Spotlight" programme on Thursday, 17 May from 18:00 BST and online from Friday.