Widnes worked hard for Super League licence - Denis Betts
Last updated on .From the section Rugby League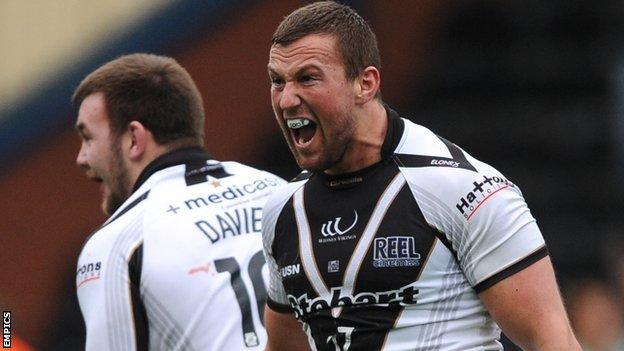 Denis Betts has insisted "a lot of work" was required for Widnes to regain Super League status, after calls for the licence system to be scrapped.
The Vikings were handed a three-year licence last year and returned to the top flight in February.
Coach Betts told BBC North West Tonight: "The system's in place, we're part of the system and it's got us into Super League through a lot of work.
"Promotion and relegation is in place. It's just a three-year process."
He added: "We've got a great stadium, a great pitch, a great chairman and some really good staff.
"We need the fans to buy into that, really get behind us and support the club.
"The finances are depicted by the people that come through the gate. We can't rely on the chairman because then it becomes unsustainable."
Widnes were granted a Super League licence ahead of Halifax and Barrow in March 2011, having failed in their attempts to get back into the top division three years earlier.
The club had previously been in the top flight between 2002 and 2005.
The Vikings have struggled on their return, winning only two of their first 14 league fixtures this season and conceding an average of over 45 points per game.
However, their first victory back at Super League level came against Wigan Warriors, who are now leading the table.
Leigh MP Andy Burnham believes the current system does not benefit many lower-league clubs and has called for the traditional format of promotion and relegation to be introduced again.
"Leigh is one of the strongest heartlands of rugby league and the sport is lucky to have northern towns like Leigh that are still the bedrock of the sport," he told BBC Radio Manchester.
"You can't neglect them and if you kill the dream factor in places like Leigh, what's going to happen to rugby league in the long term?
"The dream factor is what keeps any club alive and I'm worried that rugby league is suffering in places like Leigh right now.
"The gulf between the Super League sides and the rest is in danger of becoming far too wide.
"What incentive do people have to invest in clubs like Leigh if there's no obvious route upwards into the top flight?"
In response to Burnham's comments, Blake Solly, the Director of Licensing and Standards at the Rugby Football League, said: "One of the issues we faced in the past with promotion and relegation was that there is a massive gulf between Super League and the division below.
"Licensing is an attempt to grapple with that gap between full-time professionalism and part-time professionalism, in a way that gives clubs some viability and sustainability.
"Some elements are working really well. Everyone looks at Catalan Dragons and what a fantastic success story they are for the sport, but 18 months ago, they would have been relegated.
"The fact that they've had a licence has meant they've been able to rebuild from a poor season and become one of the game's strong teams."