Bradford Bulls: Ex-chairman Peter Hood responds to accusations
Last updated on .From the section Rugby League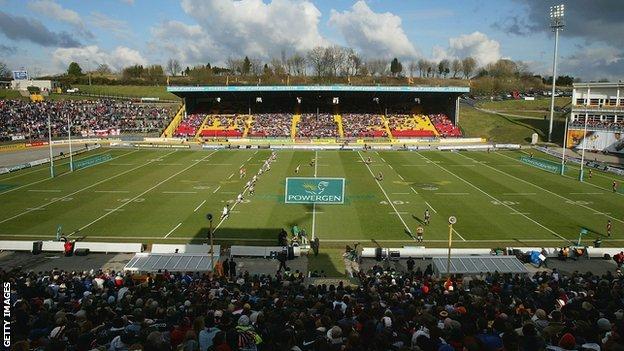 Former Bradford Bulls chairman Peter Hood has hit back at claims he left the club in a far worse state than was initially thought.
New director Stephen Coulby claimed in the Bradford Telegraph & Argus on Saturday that Hood and former director Andrew Bennett had budgeted to lose more than £1m this year.
But Hood responded to the accusations, saying: "This is not true."
He added: "There is a cashflow model that shows that, if nothing happened to generate new monies, based on a full salary cap spend and other substantial football costs, then the result would be a loss of more than £1million.
"But, as we know, the Pledge For Survival raised more than half a million of new cash from fans and friends of the club, including from myself and Andrew Bennett and [chief executive] Ryan Duckett but not, so far as I recall, from Chris Caisley, Coulby or Rowland Agar [board members].
"Added to which, as the continuing director Ryan Duckett is in a position to confirm, discussions were well advanced with a number of well-funded potential sponsors at the time Bennett and I were forced out."
Bradford announced on 27 March that they needed to raise £1m to stay in business, with half the amount needed within 10 days.
Thanks to pledges from several different outlets they reached their £500,000 target, but Coulby has now claimed the Bulls still need £1.25m to make it through to the end of the year.