London Broncos coach Rob Powell remaining positive
Last updated on .From the section Rugby League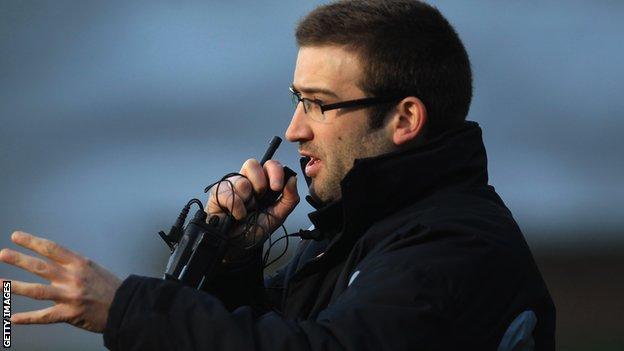 London Broncos head coach Rob Powell is confident his side are capable of turning around their season.
The Twickenham Stoop outfit currently lie bottom of the Super League after seven straight defeats.
He told BBC London 94.9: "We are better than what we have been turning out individually and as a group. In a lot of the things we do, we're not far off.
"We are where we are and we've got to turn it around. We don't want to be in a fight over who comes bottom."
The Broncos have not won a Super League game since their 36-0 victory over Wakefield at the end of March, but Powell says his players remain committed to the cause.
"If the group was turning up, training was terrible, they were all disjointed, they didn't have intensity, people were arguing and we were going into games with no energy in the warm-up, then I'd say we've got things massively wrong," he added.
"But that's not the case. The team are on-board and there's as good a vibe as there can be when you've only won two games.
"There's still a desire in what we do and people are working hard."
The London side face second-bottom Widnes Vikings this weekend and Powell knows a win would give his players the belief and momentum to build on.
"The end product isn't very good at the moment because of where the players are at, but that can quickly turn," he continued.
"All it needs is one win and in a few weeks people will start talking about what a good team they are.
"I'm not going to carry on blindly bashing my head against the wall telling the boys what I think are the wrong things. I won't lose faith or stop giving my all.
"I'm trusting of them that they will go out and do the things we know they can do."