Bradford Bulls close to administration over unpaid tax
Last updated on .From the section Rugby League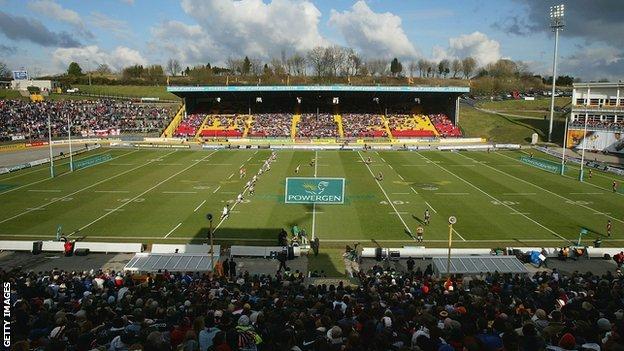 Bradford Bulls could be forced to go into administration within a fortnight after being hit by a winding-up order over unpaid tax.
The club owe Revenue & Customs (HMRC) £90,000 in payroll tax, plus £250,000 in VAT from the sale of the stadium.
The Bulls need more than £1m to survive to the end of the season, despite recently raising £500,000 through fan pledges, gate receipts and an auction.
It now has two weeks to raise funds or find new investment.
The figures were passed to BBC Radio Leeds by Brendan Guilfoyle of The P&A Partnership, the company brought in by the club to review the state of its finances.
The club has offered to pay off the VAT debt, which has been outstanding since the end of January, at a rate of £50,000 a month, and director Stephen Coulby said the club remained intent on avoiding administration.
In April, fans responded to an urgent call to donate funds, raising about £500,000 and it was claimed another £500,000 would pay off current liabilities.
But Coulby said: "Had the actual position been as we understood it to be, that is to say a requirement for £1m, half of which had already been raised through the sterling efforts of supporters, it would not have been a problem.
"Regrettably, other matters have recently been brought to our attention which have widened the funding gap but we are still intent on avoiding administration and its consequences if at all possible."
Insolvency firm The P&A Partnership was brought in last month to review the club's finances.
Guilfoyle said: "HMRC is threatening to wind up Bradford Bulls Holdings Ltd and, under these circumstances, the directors have had no alternative but to file a notice of intention to appoint administrators to protect the club.
"This pro-active decision gives the club a breathing space to find partners to invest in the club.
"It doesn't mean that the club will necessarily enter administration. The club has two weeks to find additional funds - this may mean a number of investors coming together to save the club."