Bradford Bulls tax debts affecting investors - Chairman
Last updated on .From the section Rugby League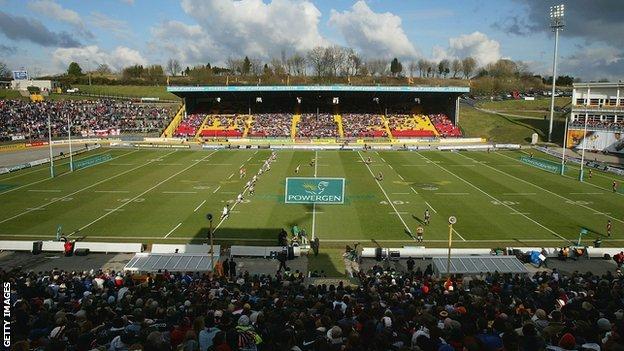 Bradford Bulls chairman Stephen Coulby has admitted the club's tax debt is putting off potential investors.
Coulby also warned that sporting penalties in the event of administration are "open-ended".
"People are only interested in investing if it safeguards the club going forward, not just pay off debts and leave it where we are," he said.
But he told BBC Radio Leeds the club still intended to avoid administration if at all possible.
The Bulls filed a notice of intention to enter administration earlier this week, after receiving a demand from HM Revenue and Customs for immediate payment of unpaid PAYE-related tax of £82,000.
Coulby, who took over when former chairman Peter Hood resigned last month, said the taxman's demand left the club with little alternative but to file the notice as a means of protection, giving them a fortnight's grace to complete negotiations with potential investors.
But he admitted the Revenue's action had created its own problems.
"The problem we've got is that at the moment no one investor has come forward, understandably, with the amount that's involved.
They're saying 'Well, we're interested, but you've got to really come up with the amount that's required [to pay the tax debt], there's no point in putting in a certain sum if it's just going to go straight to the taxman'."
He insisted the club's financial situation was '"much worse" than had originally been thought.
"The amount we were told that was required initially was about £1m.
"The supporters made a tremendous effort in raising the half million which was needed to get the club through April and we had somebody who was effectively going to make that up to £1m.
"Sadly when we got involved we found the position was much worse."
Coulby said the club had spoken to the Rugby Football League on Wednesday.
"We're in a slightly unique position, in that the penalties that were there [for entering administration] - I think the Wakefield Wildcats lost four points - those penalties now are more open-ended," he warned.
"So the potential is there of losing points, but it's the ramifications for the group of players we have. We're not looking to sell the crown jewels, we're not looking to go into administration."