Wigan's Sam Tomkins says move to NRL in 2014 'greatly appeals'
Last updated on .From the section Rugby League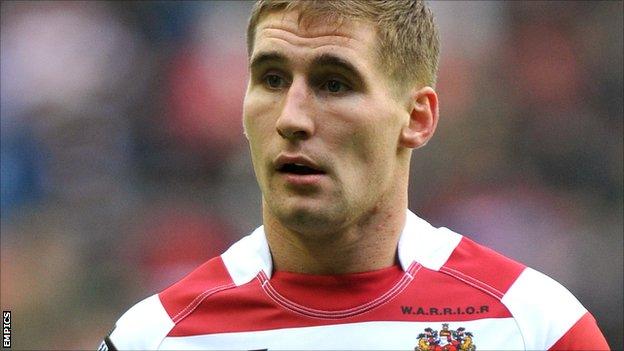 Wigan full-back Sam Tomkins has said he will "give serious consideration" to a move to Australia's National Rugby League at the end of the 2014 season.
"Playing in Australia and challenging myself against the best rugby league players in the world definitely greatly appeals to me," said the 23-year-old.
"It is something that I may well do in the future."
Writing in his column for the Manchester Evening News, Tomkins continued: "Come December 2014, to play in the NRL will be an option open to me and I will give it serious consideration.
"It is a big decision, but one I have to consider.
"I had an opportunity to go out to Australia earlier on in my career but I knew I wasn't ready. Even last year, I was mulling over the possibility but I stayed loyal to Wigan - a club I love.
"In two years' time, I will be a better, older and more mature player and will be in a better position to weigh up my options."
The new contract he signed at the end of last season tied him to the DW Stadium for three years.
And Tomkins, who has also been linked with a switch to rugby union following his appearance for the Barbarians last year, is a vital part of a Wigan side that have won the last 13 matches in all competitions and currently leads Super League by three points.
"For the next two years, I am totally focused on the job in hand at the Warriors and on what we are striving to achieve," he added.
"The seeds have definitely been planted for us to create another strong Wigan dynasty. To match the feats of the all-conquering Wigan teams in the 1980s is a realistic goal."