London Broncos underperforming, says Rob Purdham
Last updated on .From the section Rugby League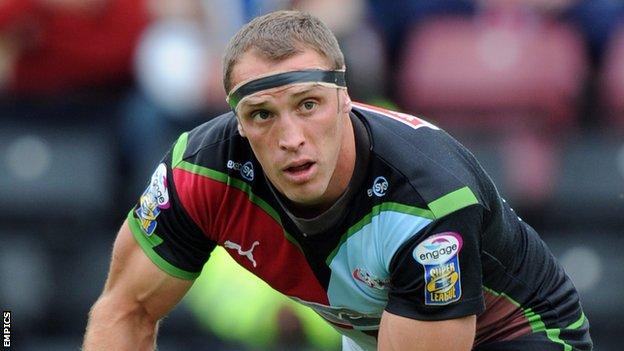 Retired London Broncos star Rob Purdham believes the side have underperformed this season.
The Twickenham Stoop side have won just three of their 19 Super League games.
He told BBC London 94.9: "To be honest, it's been a pretty poor season. With the team they've got on paper, they should be doing better.
"It's a total different look team [to last year]. I know they are working hard, but I don't know what it is that isn't making them click."
He added: "Hopefully sooner rather than later, it will click and they'll have a strong run until the end of the season."
The 32-year-old played 264 games during 10 years with the Broncos and Harlequins franchises before retiring at the end of last season.
"I do miss it and the first result I look for is Broncos," Purdham continued.
"I want the players who I know down here to do well but it's just not happening.
"Super League needs a good team in London and London needs to be in Super League."
The Broncos suffered a 58-12 defeat at home to Leeds Rhinos at the weekend, leaving coach Rob Powell frustrated after trailing 24-12 on the hour mark.
In May the club's board announced it would hold a mid-season review of its players after a number of experienced and high profile players joined before the beginning of the campaign.
But their arrival appears to have had little impact on the Broncos' fortunes and Purdham thinks there may be a psychological aspect to their under performing.
"When we go behind in a game there is clearly something that happens where we don't believe we can go on and win it," Powell told the BBC.
"There is clearly a mental aspect which has been talked about a little bit this year.
"You've got to create an atmosphere where people want to be and want to play, and generally that's been the case over the last couple of years."