Former England captain Jamie Peacock backs team to flourish
Last updated on .From the section Rugby League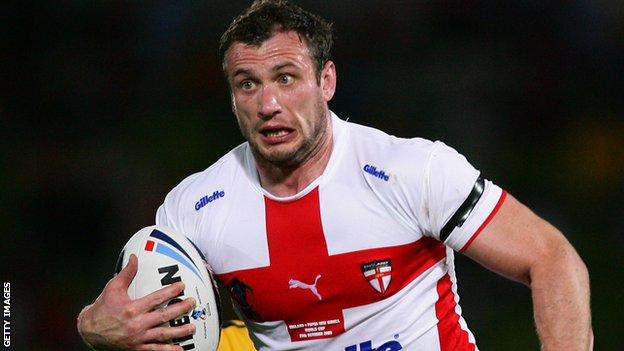 Former England captain Jamie Peacock has backed the national side to carry on improving without him.
"There's a much greater strength in depth than when I came into the squad as well as world-class individuals," he told the Super League Show.
England play the Exiles in the second of their two-match Origin Series on Wednesday, having won the first 18-10.
Peacock added: "I think we're close to beating Australia and I wouldn't say that if I didn't believe it.
"We were nearly there against them in 2009 and in 2011 and I really think we can do it on home soil."
That match proved to be Peacock's final international and he admits the gruelling rugby league schedule was behind his decision to retire.
"I decided around December or January that it would be best for me to step down," he added.
"The season raises in intensity in August and then again every month until the end of the season. For me to lift myself again at the end of the season for the internationals is probably just a bit too much."
Leeds have endured an inconsistent season in Super League but the former Bradford man, who signed a new two-year deal at Headingley in March, insists he has no intentions of quitting the game altogether.
"I'm enjoying my time at Leeds, we have our ups and downs and it's probably the most high-pressure club to play at," he said.
"With high pressure comes success generally and I'm looking forward to more of that with the Rhinos."