Bradford Bulls administrators extend liquidation deadline
Last updated on .From the section Rugby League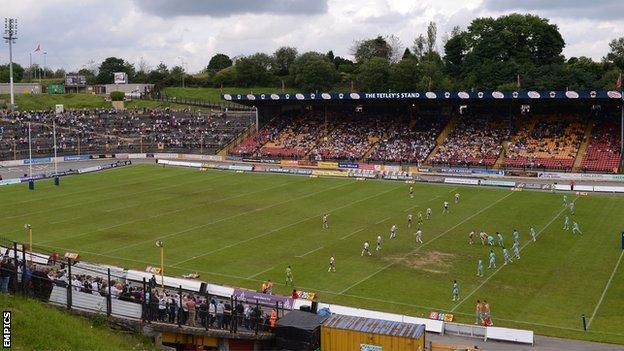 Bradford Bulls' administrators have extended the deadline for when the club needs to have a new owner to 27 July.
"We have extended the deadline while the potential buyers have a thorough look at the club," administrator Brendan Guilfoyle told BBC Look North.
"No offer has been made but they are intent on buying the club."
He added: "They are a local group and they have the club's best interests at heart.
"We hope to have a deal in place by the new deadline."
The extension on the deadline is dependent on the Rugby Football League agreeing to pay the players' wages for the month this week.
Guilfoyle says the club do not have enough money in the bank to foot the bill themselves.
"After the London game on Sunday we now have £40,000 in the bank, which is a long way short of the £200,000 that we need," he continued.
"However, the RFL have said today that they will cover the wages which are due to be paid on Thursday."
Despite the positive news about a potential buyer for the four-time Super League winners, Guilfoyle warned that the deal would be dependent on the RFL and the 13 other Super League clubs consenting to allow the club to remain in the top division and permitting the new owners to buy back their ground.
"For the deal to go through we need the RFL to agree to us remaining in the top division and buying the ground back from them.
"We need the other clubs to agree that Super League is a poorer place without us."
The Bulls beat London Broncos 44-12 on Sunday, their third successive victory.
Head coach Mick Potter along with a number of the club's backroom staff worked for free, having been made redundant earlier in the week.