Rob Powell 'to remain' with London Broncos - Gus Mackay
Last updated on .From the section Rugby League2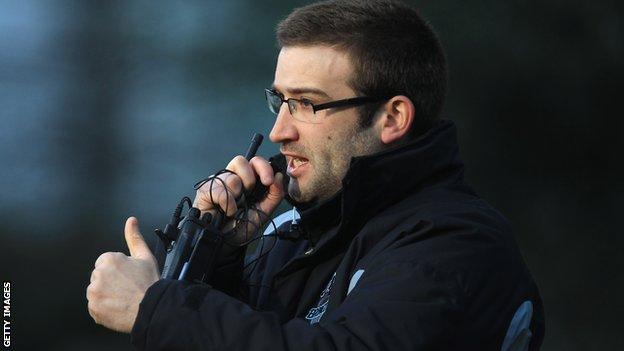 London Broncos chief executive Gus Mackay says that Rob Powell will still have a role at the club despite being replaced as head coach.
Mackay told BBC London 94.9: "He is going to remain with the club.
"We will sit down and identify something for him. Obviously both parties would need to agree on that."
He added: "We'll see how that pans out over the course of the next few weeks."
Powell originally joined the Broncos as assistant coach in January 2007 and then took the top job in November 2010.
And Mackay is adamant that due to his previous efforts, Powell deserves to have a future at the south-west London club.
"We shouldn't under-estimate the hard work Rob has put in in trying to get it right for us," Mackay said.
"It didn't click for him and that's unfortunate.
"We value what he has done and he's been instrumental in bringing a number of youngsters through over the years.
"What we've said to Rob is to have a couple of weeks off, get refreshed, come back and have a chat with Tony.
"We'll see how Tony sees him fitting in for the rest of the season.
"When we do appoint a new coach it might be Rob slots into a role working with the new coach, or in a development role. But that's all still to be ironed out."
The Broncos launced a mid-season review of their performances in May and Mackay has defended the decision to bring Rea to the club after Powell won just three Super League games this season.
"The board made a decision to make a change to give us the opportunity to try and finish [the season] strongly," Mackay continued.
"There were great expectations at the beginning of the season with the players we'd signed.
"For one reason or another things haven't gelled and we find ourselves at the bottom of Super League, which we find unacceptable."
Mackay has also given his backing to Rea, who served as head coach of the London franchise for five and a half years in the 2000s.
"Tony's was a name that came forward having been involved in the club before and was available immediately," he said.
"He knows the club inside-out.
"We want to see a couple of wins and a side that is competing and lays the foundation and a platform for next season. There will be some fresh ideas coming in and maybe those things will click things into gear.
"This is a seven-game stint. We will advertise and if Tony wants to put his name into the hat for the role going forward, it will be up to him."
The Broncos will now launch a worldwide search for a new head coach, and Mackay added: "We want someone to come with some experience and ideas that will help us develop as a side and take us forward.
"We'll be scouring the world to see what is out there. I'm sure there will be a number of candidates.
"We all know it's a challenge but I think it's an exciting one. There's a great opportunity.
"We have the calibre of players to put us into a top-eight finish."