Rugby Football League announces record turnover of £29m
Last updated on .From the section Rugby League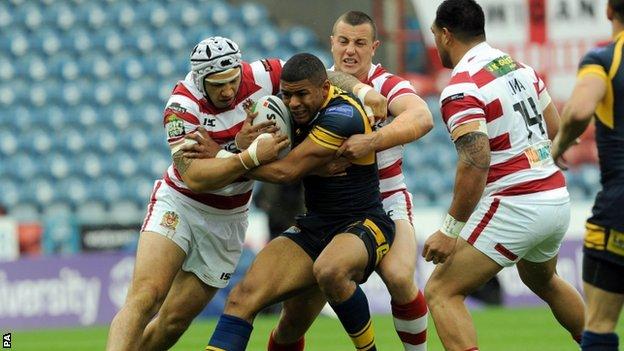 The Rugby Football League has announced a record turnover of £29.04m for 2011.
RFL turnover increased 18.5% on 2010 and, for the 11th successive year, payments to or on behalf of clubs has increased, to £9.18m.
Bradford Bulls went into administration in June and RFL chief executive Nigel Wood insists there will be no complacency in the governing body.
"We are under no illusions as to how tough it is out there," he said.
"The RFL's record turnover in 2011 is a commendable achievement which has allowed us to provide unparalleled levels of assistance to clubs at a time when every area of the game is facing financial pressure.
"The flat economic outlook means that 2011 turnover levels could represent something of a high water mark for the RFL.
"But we will continue to strive to build on our achievements of the last 11 years."
The RFL have put their increased turnover down to staging of the Four Nations tournament in the Northern Hemisphere, which saw a significant rise in matchday income.
They posted a pre-tax profit for the 10th successive year.
The £9.8m paid to clubs, which includes fees for participating in the Challenge Cup and the Co-operative Championship, is nearly triple the £3.46m in distributions of five years ago.
Wood feels the sport is well-placed to make the most of hosting next year's World Cup.
He added: "With the kick-off of the Rugby League World Cup just 15 months away, the organisation and the sport are well placed to take full advantage of the opportunities this exciting international competition present."