Huddersfield Giants boss Paul Anderson wants discipline
Last updated on .From the section Rugby League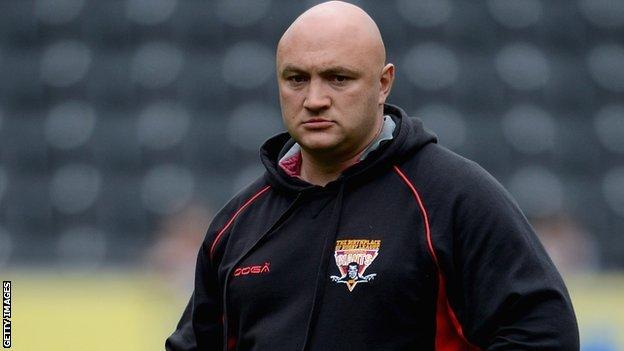 New Huddersfield Giants coach Paul Anderson says he expects his players to show discipline under his stewardship.
"It's going to be black and white, if someone decides they don't want to do as they're told consistently then they will be out," he told BBC Radio Leeds.
"My approach and philosophy is very simple and in the coming weeks it'll become clear what I find acceptable."
Brown was relieved of his duties after the Giants' Challenge Cup semi-final exit to Warrington, the side's eighth defeat in 10 matches.
Anderson, who had been due to take over at the end of the season, says he is not looking to completely revolutionise the team at this stage of the campaign.
"This team have been very well coached for a number of years," he added.
"For me, with seven weeks of the season to go, to come in and say 'No we're not doing that, forget whatever you've been taught so far,' I may as well just give the chairman my notice. It wouldn't be the right thing to do.
"In pre-season then obviously I can make bigger changes but that's then."
Anderson takes charge of the Giants for the first time in Sunday's match at home to Wakefield.