Sean Long will play for Salford in emergency - Veivers
Last updated on .From the section Rugby League15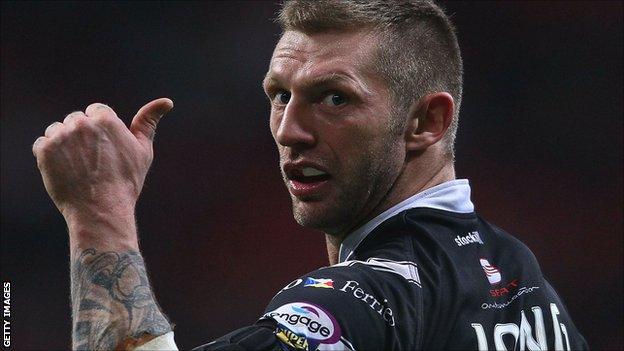 Sean Long has been registered as a player by Salford City Reds but will only feature in an emergency, head coach Phil Veivers has confirmed.
Veivers told BBC Radio Manchester: "Any coach worth his salt would have done the same thing and registered 'Longy'.
"With only two recognised half-backs, it made common sense to register him as an emergency back-up."
He continued: "Sean plays rugby union for Preston Grasshoppers and he's in the middle of his pre-season with them, so there's nothing wrong with his fitness."
Matty Smith's departure to Wigan earlier this month has left Daniel Holdsworth and youngster Marc Sneyd as Salford's half-back partnership.
Long quit the sport in 2011 after an injury-plagued spell with Hull FC, but he insists he is fit and ready to make a comeback and play if required.
Speaking to BBC Radio Manchester's Rugby League Extra, Long said: "I still get the buzz of playing fourth division rugby union for Preston Grasshoppers.
"But it's not about myself, it's about Salford.
"We still think we've got a realistic chance of making the play-offs, we're short of men, I said I'd hold my hand up for the team and I'd play.
"I wouldn't do it if I didn't get a buzz out of it. I love the training, I've just been flogged on the hills, so I'm ready to go."
Long won the Super League title four times and three Challenge Cups during a successful 12 years at St Helens.
He spent time playing for Wigan and Widnes before calling time on his career after an injury-plagued spell with Hull FC.
Wigan-born Long joined the Salford coaching staff the week after his retirement.
Long was named Man of Steel in 2000 and kicked drop goals to win both the World Club Challenge in 2001 and the Challenge Cup with Saints the following year.
His glittering career, however, was also overshadowed by controversy.
Long served a three-month ban after an investigation into betting irregularities in 2004 and prematurely quit the 2006 Tri-Nations series when on Great Britain duty, retiring from international rugby league the following year after winning 14 caps.