Rugby Football League consider promotion and relegation changes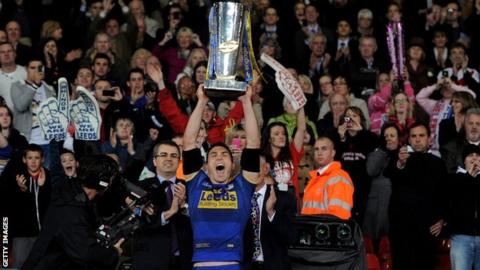 The Rugby Football League (RFL) is to consider reintroducing automatic promotion and relegation as part of a review ordered by Maurice Watkins.
The review, led by RFL chief executive Nigel Wood, will begin immediately.
Interim chairman Watkins said: "A further discussion about the sport's future direction should quickly follow.
"We are focusing particularly on the size and structure of the leagues, licensing and promotion/relegation and sustainability of clubs."
The report was put together by sports lawyer Watkins, the senior non-executive member of the RFL board of directors, in the wake of the departure of chairman Richard Lewis, but is particularly relevant in the current crisis engulfing financially-stricken Bradford Bulls.
Three-year licensing of Super League franchises was the brainchild of Lewis, who in April ended his 10 years in charge of the RFL to become chief executive of the All England Club at Wimbledon.
The system was introduced in 2008, when Super League was expanded from 12 to 14 clubs.
But several teams are calling for a reduction in the number of teams in Super League, another issue that will be considered in the review.
Hull KR chairman Neil Hudgell recently claimed that Super League has neither the finances nor the playing talent to sustain 14 teams, while St Helens chairman Eamon McManus echoed his call for a restructuring of the governance of the game.