Tony Rea ready to get tough with London Broncos
Last updated on .From the section Rugby League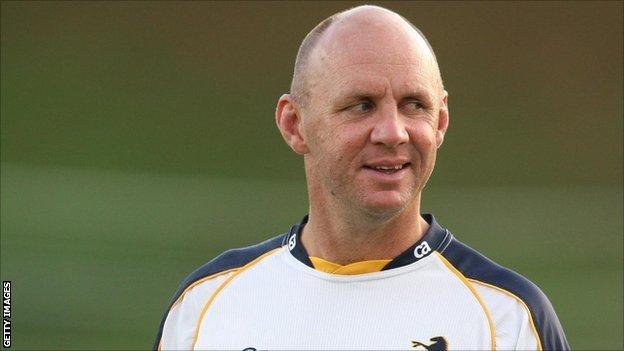 Interim coach Tony Rea has promised to take any "tough decisions" necessary to improve the struggling London Broncos.
Former London coach and chief executive Rea agreed to return to the club when head coach Rob Powell was relieved of his duties last week.
"At the end of the day, the club needs a bit of leadership," the 45-year-old Australian told BBC London 94.9.
"There's too many questions over a lot of things, but taking tough decisions is something I'm comfortable doing."
Rea flew in from Australia at the end of last week in time to see the Broncos thrashed at home by Wigan, leaving them with a record of just three wins from 21 Super League games this season.
"You don't fluke your way to being bottom of the league, and I've already picked up quite a number of things which are quite significantly different in the way we think here and they have to be addressed and sorted for us to gain any success," Rea said.
"With seven games remaining the target is a real easy one. You get what you deserve in life, so if you want success you have to go and earn it.
"I've already spoken to the players about what they're thinking about in the transition between training and games, and in particular the pressure points in games, and if we can change that we'll find out whether we're good enough."
Rea said he had spoken to a number of people, including former Australia head coach Wayne Bennett, about the advisability of returning to London.
"My enthusiasm and the owner's enthusiasm were there but it had to make sense for the club, and once I got some independent thoughts I was committed straight away," he said.
"I see my role as making sure we change our thinking and progress our thinking so we get back to where we were."
However Rea emphasised he had no intention of staying in a coaching role longer than the end of the current season.
"The one thing that was clear is we wouldn't be spending time thinking down that line. We'll advertise [the position], we have some thoughts and some people in mind, and there might be some sort of contingent attachment while those sort of things are on-going, but I won't be here as coach."