Warrington Wolves hooker Michael Monaghan will never be fully fit
Last updated on .From the section Rugby League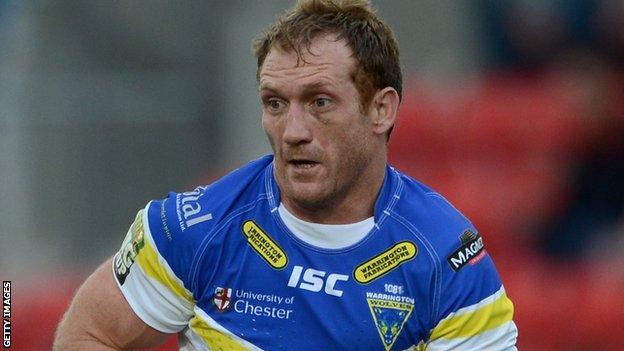 Warrington Wolves hooker Michael Monaghan believes he will never be fully fit again after knee surgery.
"I've had a couple of goes at trying to come back and each week is another step in the right direction," he told BBC Radio Merseyside.
"But I'm probably never going to be back to 100% I don't think."
The Australian moved to Wolves in 2008 from Manly Sea Eagles and has gone onto make over 100 appearances at the Halliwell Jones, winning the Challenge Cup twice.
Monaghan says he will adjust his training to try and reduce the damage on his knees but if he has to leave the sport when his contract expires at the end of next season he will do.
"I can't really go out and train everyday the moment, hopefully that will improve, and at the end of the year we will be able to fix that," he added.
"It's a concern, but it's part of playing this game.
"You do get injuries and if I'm honest I'm coming to the back end of my career anyway so it's not something I'm too worried about.
"If they hold out for another 12 months so be it, if they hold out for another two years then great, but when it happens, it happens.
"Hopefully I can get back to a level of performance that I'm comfortable with and one that we need at the club."