Bradford Bulls: RFL rejects conditional bid for club
Last updated on .From the section Rugby League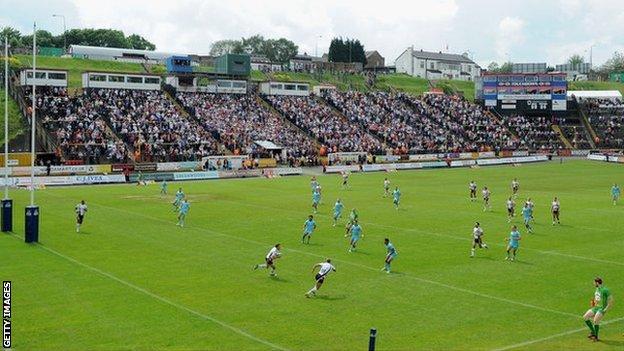 The Rugby Football League have rejected the conditional offer from the ABC consortium for administration-hit Super League club Bradford Bulls.
Administrator Brendan Guilfoyle warned that if the bid, which was submitted last week, was not accepted the club could "cease to exist".
In a statement the RFL said: "The board of directors has deemed its conditional nature unreasonable and unrealistic.
"Details of a further offer are currently being assessed."
Guilfoyle confirmed that the bid for the club was conditional on the Bulls being allowed to continue in Super League and the new owners to buy back the ground, which is currently owned by the RFL.
Any prospective buyer needs to satisfy the RFL of their intentions before the club is re-admitted to the league and, although the governing body have the final say on the Super League licence, they are obligated to consult with the other 13 clubs, who are known to be split on the subject.
Earlier on Thursday, Bradford South MP Gerry Sutcliffe confirmed he is part of a rival consortium weighing up a bid for the club.
Along with Bradford-based businessman Omar Khan, Sutcliffe has met with Guilfoyle.
"It's a great club and I want to make sure that the long-term future is secure," he told BBC Radio Leeds.
"I see it as more than just a business venture, it's about the heritage of the city.
"Brendan was very frank about what was required and it is now a case of us trying to put a bid together in time for the deadline."
The final day for bids to be submitted for the Bulls, who were deducted six Super League points on Wednesday, is Friday.
Bradford Bulls entered administration on 26 June after attempts to raise £1m to keep the club running were unsuccessful.