Whitehaven not promoted yet, warns coach Don Gailer
Last updated on .From the section Rugby League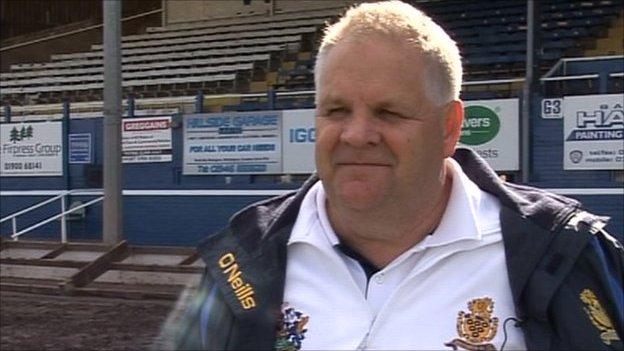 Whitehaven head coach Don Gailer has said his side still have work to do if they are to follow rivals Workington Town into the Championship.
Haven's 31-12 win against Rochdale was enough to secure promotion for Town, and boosted their own hopes of sealing a top-four finish in Championship One.
"We did our fiercest opponents a job today," Gailer told BBC Radio Cumbria.
"[Gary] Charlton can buy us a beer when we're up there with them, but there's still a lot of work to do."
He added: "We won't lose focus."
One of the heroes of the Haven side was former England half-back Jamie Rooney, who kicked seven points and added a try to get the scoreboard up and running.
"I had a conversation with Jamie, and said how we really needed this game and so he put in a couple of extra sessions this week," Gailer said.
"He promised me we'd win and he did everything to get us over the line."
Gailer was also lifted by the return of Lewis Palfrey on loan from Batley, and the 21-year-old made an impact on his introduction.
"Lewis was great, he was pushing up all first half and made a difference behind us," Gailer added.
"There were outstanding efforts out there today."