Bradford Bulls: Debt revealed to be around £1.5m
Last updated on .From the section Rugby League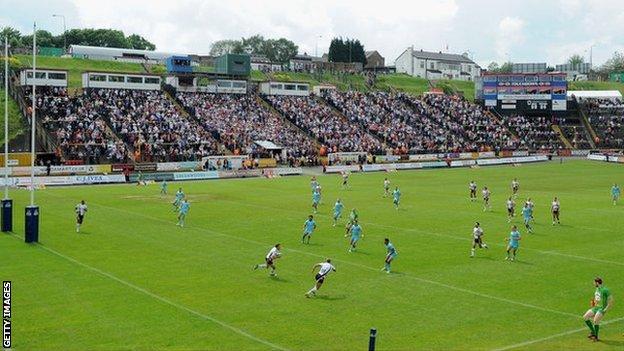 Bradford Bulls are approximately £1.5m in debt, it has been revealed.
Bullbuilder, the Bradford Supporters' Trust, met with Rugby Football League director of licensing Blake Solly after the bid was placed.
They said in a statement: "We were told the debt of the club remains a concern and is estimated to be around £1.5m."
It is understood that the bid from SLE would effectively mean that they, along with the 13 other Super League sides, would become the club's administrator while efforts continued to find a long-term owner.
The statement continued: "In a constructive meeting, we established that SLE look on this as a short-term measure and are confident of attracting a long-term, unconditional bid in the near future.
"Solly could give no guarantees about the division in which the club will play next season.
"However, he assured BullBuilder that the club would continue to play at Odsal for the foreseeable future.
"If the SLE bid is accepted, we understand that players will then be free to speak to other clubs to secure their future for next season."
The Bulls have been in administration since 26 June after initial attempts to raise £1m to keep them afloat proved to be unsuccessful.
The ABC consortium submitted two conditional bids for the club but both of these were rejected by the RFL.
Guilfoyle made the whole of the club's coaching staff redundant on 2 July and they have been working, along with many of the office staff, in a voluntary capacity since 4 July.
Bullbuilder now believe that they could be re-employed but until that point will continue in their efforts to raise money for them through their hardship fund.
"Where recently redundant backroom and coaching staff are concerned, there is a likelihood that some may be re-employed," said the statement.
"However, in the interim, those staff are still not being paid and are unlikely to be reimbursed for their unpaid work in the meantime, so the hardship fund instigated by BullBuilder is still required.
"Therefore, BullBuilder intend to carry out a bucket collection in support of the hardship fund at Sunday's home game against Widnes."
As a result of entering administration the Bulls were deducted six points last week and are currently ninth in the table, four points outside the play-off positions.