Barrow must expect changes to Championship squad - Holt
Last updated on .From the section Rugby League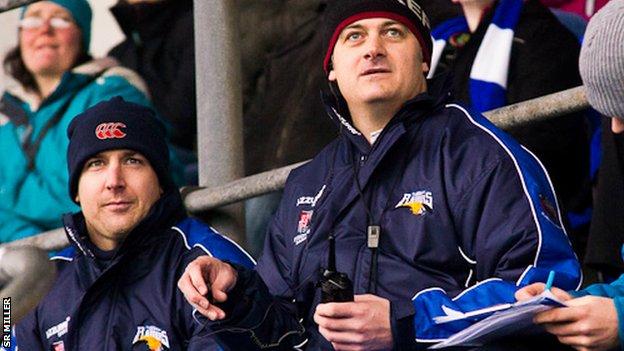 Barrow Raiders head coach Darren Holt has said the squad must expect an overhaul following promotion to the Championship this season.
Holt and assistant Phil Atkinson are already assessing for 2013, despite three games remaining this term.
"We'd be wrong not to plan for next season, the Championship is a step up," Holt told BBC Radio Cumbria.
"They know there have to be changes, and there have to be new faces that come into reinforce the squad."
He added: "It's much the same as any squad, Workington and Doncaster are already promoted and they will be doing the same.
"You have to as the Championship is a very tough competition and you need a good squad just to compete, let alone do well."
Meanwhile Raiders continued their bid to finish top of the Championship One table with Sunday's 42-16 victory against Oldham at Craven Park.
Whitehaven's win against Doncaster ensured Barrow opened up a four-point gap at the top going into next weekend's top-of-the-table encounter with Workington.
"It was a good first half and a poor second half, the second was the worst performance of our season," Holt said.
"You've got to be happy with 42 points at home against a team who beat us twice this year. The lads are happy and there was some very good stuff played.
"I'm happy with the result but there's still stuff to work on going into a very tough game against Workington next week."